Monday, January 18th 2021, 7:57 pm - This week marks the gradual return to more winter-like weather across southern Ontario, with the lake-effect snow machine revving back up Tuesday.
After a prolonged period of mild temperatures and relatively calm conditions, winter is beginning to reappear in southern Ontario this week. Not only will temperatures drop, but lake-effect snow will return Tuesday, with the potential for squalls to generate off Georgian Bay and Lake Huron in the afternoon. Some areas may see 15-20 cm of snow, with travel expected to be difficult across Highway 21. A snow squall watch is in effect for Grey-Bruce. That won't be the end of it, as more widespread snow is expected later in the week. More on the timing and impact, below.
---
WEATHER HIGHLIGHTS:
This week marks the transition from the above seasonal temperatures to more typical winter conditions
Northwesterly winds help set up lake-effect snow squalls over Lake Huron and Georgian Bay Tuesday afternoon
Eyes on a clipper system for Thursday, which could bring more widespread light snowfall totals
---
TUESDAY-WEDNESDAY: BANDS OF LAKE-EFFECT SNOW DEVELOP IN THE TRADITIONAL SNOWBELTS, TRAVEL IMPACTS
Flurries will continue into Tuesday morning, thanks to a weak disturbance, but behind its passage will see shifting winds to a northwesterly direction. This will help set up lake-effect snow bands in the traditional snowbelt regions in the afternoon hours, persisting into Wednesday morning.
The afternoon snow bands will have a bit more potency and will be more organized due to colder air aloft.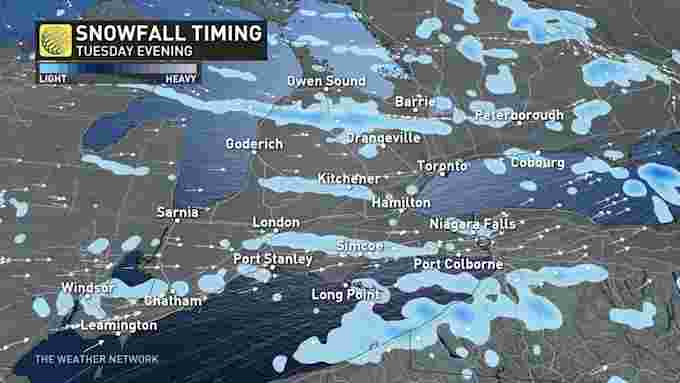 A snow squall watch is in effect for parts of Grey-Bruce. Under the snow squall bands, visibilities will be significantly reduced due to the heavy snow. Highway 21 is likely to be impacted by the squalls.
Wind gusts may reach 40-60 km/h, so snow could push all the way into parts of the Greater Toronto Area at times.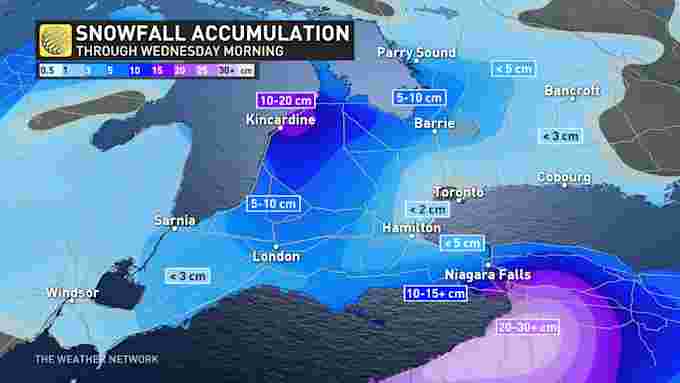 Minimal accumulations are expected across the GTA and Niagara, but southeastern portions of the latter may see slightly heavier amounts. Greater accumulations are likely across the snowbelts southeast of Lake Huron and Georgian Bay. Total snowfall accumulations of 15-20 centimetres are expected in parts of Grey-Bruce region.
MUST SEE: Potent storm dumps 20-30 cm of snow on eastern Ontario, Quebec
LATE WEEK: EYES ON A CLIPPER SYSTEM WITH MORE WIDESPREAD SNOW
Wednesday will be the coldest day of the week, though temperatures will still remain within the seasonal mark.
Eyes are also on a clipper system for Thursday, which will bring more widespread light snow to the region. By the afternoon hours however, temperatures will climb well above freezing once again.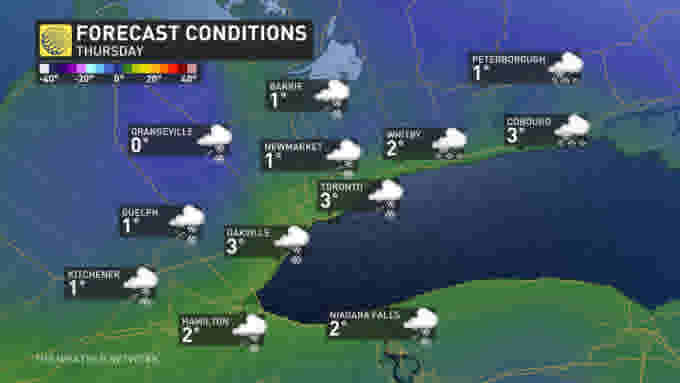 A more persistent cold pattern will begin on the weekend and continue into next week.
"It's just the weather that is more in line with what we should expect from late January," adds meteorologist Dr. Doug Gillham. "The pattern will become more active with the potential for messy winter storms, but it is unlikely that we will see more than a few days with colder than seasonal temperatures."
Be sure to check back for updates on the gradual transition to more typical winter weather across Ontario.
Thumbnail courtesy: Mark Robinson.