Thursday, November 7th 2019, 9:15 am - Blustery, cold and snowy conditions on the Prairies put the region right into the heart of winter this week
Multiple blasts of Arctic air continue to bring temperatures well below seasonal -- and well below zero -- to the Prairies this week. While the Arctic chill will relax its hold by Friday, for most, the frigid conditions will not be short-lived. Temperatures more typical of mid-winter are expected to dominate the first half of November. We take a look at how cold it gets, and when some significant snow returns, below.
Time to prepare for the season ahead! The Weather Network's Winter Forecast launches Monday, November 18.
---
WEATHER HIGHLIGHTS:
Upslope snow tapers off across southern Alberta through Wednesday
Next snow/wind event looms for weekend, mainly for Alberta
Arctic air brings widespread temperatures well below average for first weeks of November
Stay aware of ALERTS in your area
---
MID-WINTER TEMPERATURES DESCEND
The Arctic high pressure that's been driving upsloping winds in Alberta is also spurring temperatures more appropriate for December, as even afternoon wind chills dropped into the minus teens for many on Wednesday.
While some of the worst of the cold will ease slightly to end the work wee, a significant pattern change does not look to be in store.
"We're looking at the coldest temperatures so far this fall season by the weekend as daytime highs stay about 15°C below normal," says Weather Network meteorologist Tyler Hamilton. "Factor in the wind chill and the warmest part of the day on Sunday will feel like the -20s."
That's even below seasonal for January standards.
NEXT SNOWSTORM TARGETS ALBERTA LATE FRIDAY
As the cold lingers and the next blast of arctic air rushes in for the weekend, another snowfall event looms for parts of Alberta.
"This will be a significant wind and snow event for western and southern Alberta with system and upslope flow," says meteorologist Dr. Doug Gillham. "The snow will impact travel along the Yellowhead and QE2 Highway late Friday and into Saturday before extending across Saskatchewan and into Manitoba as well."
Between 10-15+ cm of snow is expected in Edmonton, with much higher totals west of the city and into the foothills and Rockies where as much as 30 cm could pile up.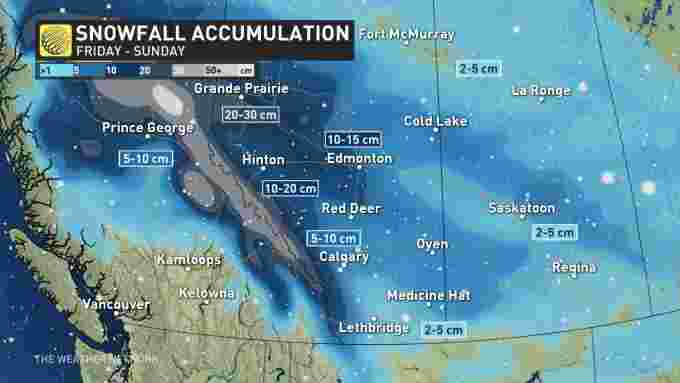 "We can expect snow for the Calgary area as well Saturday night and into Sunday, with roughly 5 cm possible there," Gillham says.
WATCH BELOW: THOUSANDS OF CANADA GEESE COMPLETELY TAKE OVER ALBERTA LAKE