Thursday, January 13th 2022, 8:58 pm - A major winter storm will reach parts of Ontario and Quebec by early next week. Significant snowfall totals are possible, but it's still too soon to say exactly where.
A significant winter storm will track up the eastern seaboard this weekend, affecting a wide swath of real estate from the southeastern United States straight through Eastern Canada. There's still quite a bit of uncertainty surrounding this storm. While it's too early to pinpoint many specifics, we do know that parts of Ontario and Quebec could see a disruptive snowfall this weekend. Prepare now for potential travel disruptions so you're ready for whatever comes your way. More on what we know, below.
---
DON'T MISS: Flip the switch: Western Canada warms up as polar vortex shifts east
---
SATURDAY INTO SUNDAY: THE STORM FORMS IN THE STATES
The storm that'll affect Eastern Canada is rooted in what's happening across the United States this week. Two systems—one swooping in from the Pacific Northwest, and another rolling off the Prairies—will merge over the southern states and kick off this disruptive system.
You may have noticed a huge uptick in chatter about this storm on social media. That's largely driven by weather enthusiasts stateside who are eagerly awaiting their first significant thump of snow and ice this season.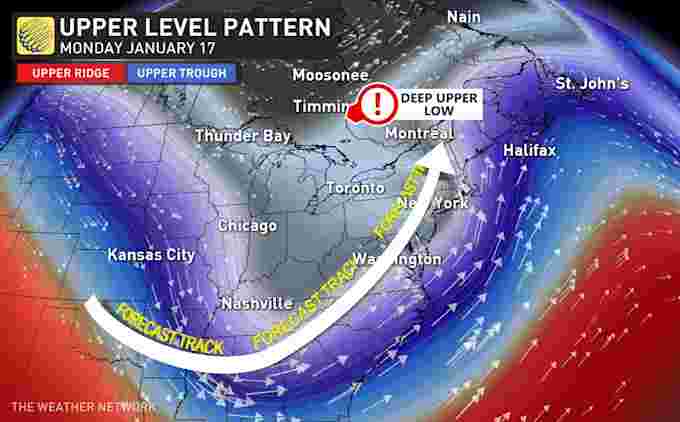 This winter storm will track from the Mid-South straight through New England, affecting many major cities, including places like Atlanta, Charlotte, and Washington, D.C. Any wintry weather in the southeastern U.S. is a big deal due to a combination of lack of winter driving experience and a deficit of equipment like snow plows, salt/sand trucks, and winter tires.
The system could produce widespread snowfall from Georgia to Maine, with significant icing from freezing rain following the track of the storm into the northeastern states. Gusty winds will make matters worse, potentially instigating widespread power outages in some areas.
MONDAY: THE STORM BEGINS TO AFFECT ONTARIO AND QUEBEC
We'll have to closely watch the system once it reaches the northeastern U.S.
After an up-and-down week of temperatures, cold air will be firmly entrenched over the eastern half of Canada come this weekend. Nighttime lows could dip near or below -20°C across the Greater Toronto Area on Friday night, with even colder conditions toward the Nickel Belt and into interior Quebec.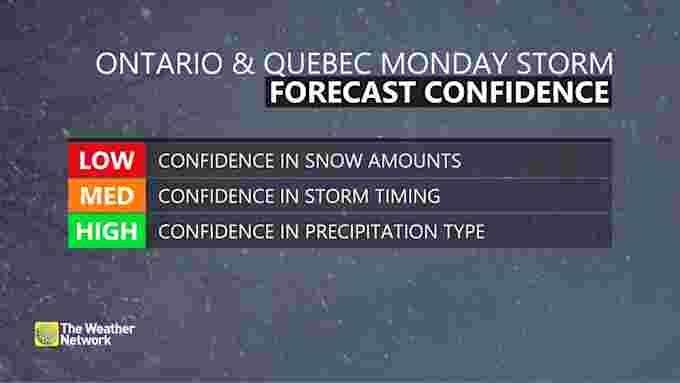 As the system pushes into the northeastern states this weekend, moisture will spill over the international border into that cold air parked over Ontario and Quebec, leading to a period of snow through the day on Monday into early Tuesday.
This is a complex forecast with lower-than-normal confidence in the track of the system. However, it appears likely that a swath of 15-25 cm of snow is possible somewhere in eastern Ontario and southern Quebec through Tuesday. The event is too far in the future to give detailed snowfall totals for individual communities.
The precise track of this system will determine where the greatest snow totals fall, and even where accumulating snow falls at all. A track slightly toward the west would put the GTA in play for accumulating snow, while a track slightly toward the east would leave the GTA on the western fringe of the snowfall.
Make sure to check back frequently heading into this weekend as forecasters get a clearer picture of what this storm will look like as it approaches Ontario and Quebec.
WATCH: TEMPERATURE SWINGS CAN BE PROBLEMATIC FOR INFRASTRUCTURE
A LACKLUSTRE WINTER SO FAR FOR SOME
Despite the occasional bursts of cold and snow, it's been a relatively lacklustre winter across parts of Ontario and Quebec. The pattern that brought a bounty of winter weather and frigid temperatures to Western Canada is largely responsible for the relative dearth of cold and snow in the east so far this winter.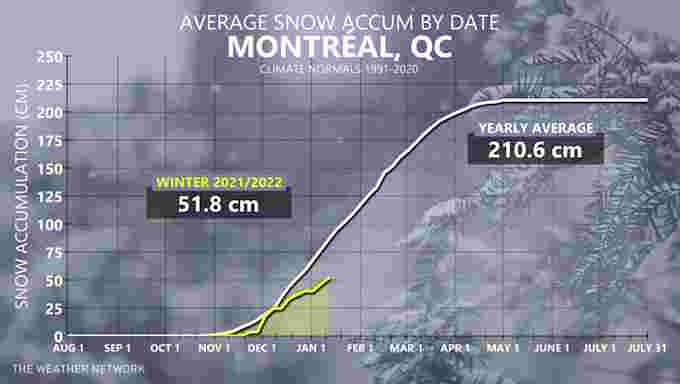 The city of Montreal has only seen 52 cm of snow so far this season, which is below the city's average of about 85 cm through the middle of January. A typical winter in Montreal picks up around 210 cm of snow. The upcoming storm could add to those totals, helping to close the snowfall deficit that's grown this winter.
BEYOND: A WINTRY END TO JANUARY DOESN'T LOOK TO LAST INTO FEBRUARY
The rest of next week looks rather wintry, with temperatures near seasonal or tipping to the colder side of seasonal. A potent clipper system is expected Tuesday night and into Wednesday, followed by another shot of Arctic air.
"This wintry pattern is expected to continue into or through the final week of January, with the potential for another shot or two of frigid weather to end the month," according to Dr. Doug Gillham, a meteorologist at The Weather Network. "However, a milder pattern is expected to return for much of February."
Stay tuned to The Weather Network for the latest updates on this snowfall potential.