Sunday, October 6th 2019, 8:31 pm - Temperatures will briefly be above seasonal before freezing air engulfs the region.
Cold air flooding down from the north and incoming Pacific moisture will create the chance for snow, largely for Alberta, during the first half of this week. While this snowfall event will not be as significant as the previous week, higher elevation areas could see between 20 to 30 cm of snow and Calgary could see between 5 to 10 cm. Details and timing, below.
Visit our Complete Guide to Fall 2019 for an in-depth look at the Fall Forecast, tips to plan for it and a sneak peek at the winter ahead
WATCH BELOW: TRACKING THE NEXT ROUND OF SNOW
While the week will begin with afternoon highs in the upper teens, temperatures are set to plummet to barely above freezing by mid-week. This renewed shot of cold air comes courtesy of a potent upper-level trough swinging into western Canada with shots of Arctic air in store for Alberta and Saskatchewan.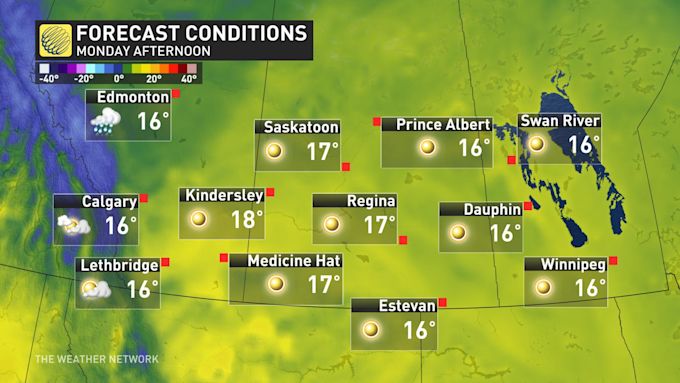 Freezing temperatures will engulf much of the area on Tuesday and Wednesday and several places could see a drop greater than 15 degrees compared to Monday. That's when forecasters are watching for snowfall across southern Alberta and the foothills. A passing cold front and upsloping winds along the Rockies will enhance the risk for this round of snowfall.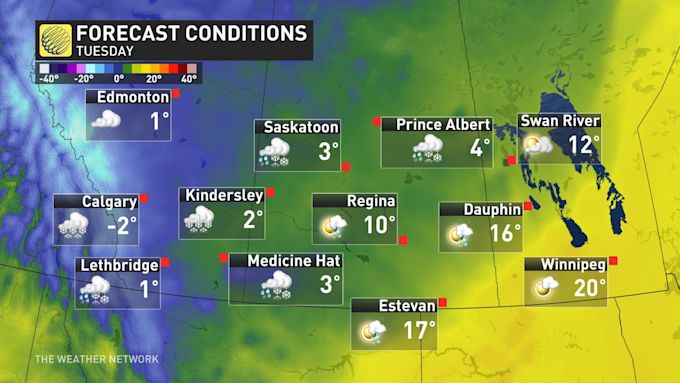 Environment Canada issued a special weather statement over almost all of Alberta on Sunday due to the drastic temperature drop, with full-fledged snowfall warnings for the mountain parks.
It's there, across the southern Rockies and foothills of Alberta, that forecasters are eyeing the highest potential for significant snow with accumulations of 20 to 30 cm not out of the question. Areas further south, such as Calgary, could see between 5 to 10 cm.
Beyond, long-range models are also hinting at another possible system -- one that would develop over Colorado and bring a swath of snow across parts of Saskatchewan and possibly into Manitoba during the middle of the week.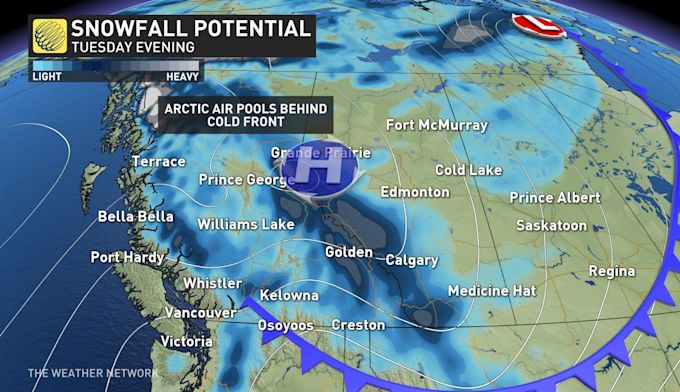 The good news for those who already tired of shovelling is that this set up is not as favourable for heavy snow as the one that dumped nearly 100 cm on the region last week.
WATCH BELOW: 20° PLUNGE COMING TO THE PRAIRIES