Friday, October 7th 2022, 2:15 pm - A sharp temperature divide will deliver both summer and snow to Canadians this Thanksgiving long weekend. See where you fall
With the first long weekend of fall upon us, many Canadians may be wondering what kind of weather they're in store for. Especially since fall can be a transitional season and one that can bring extended periods of late summer-like weather or plunging temperatures and decent helpings of early winter snow.
So will this weekend's forecast be something you'll be thankful for? Read below for details on the Canadian Thanksgiving divide.
---
Visit our Complete Guide to Fall 2022 for an in-depth look at the Fall Forecast, tips to plan for it and much more!
---
EASTERN CANADA: Be ready to bundle up for outside turkey time
The mild temperatures and sunny skies that many experienced for most of the work week will get swept away this long weekend by a strong cold front.
Modified Arctic air settling in behind the front will give much of eastern Canada a taste of November-like temperatures, with low double digit daytime highs. Some areas in northern Ontario and Quebec may even be sitting in the single digits for most of the weekend.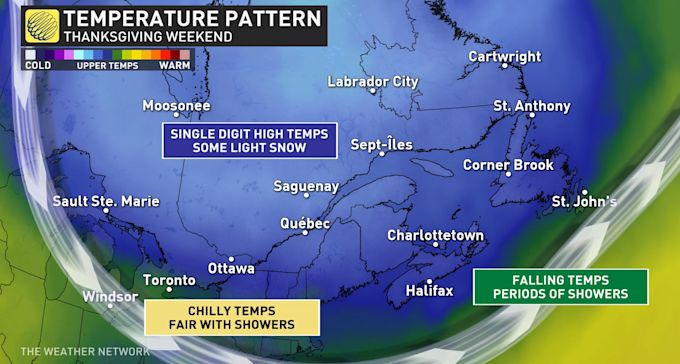 With a broad upper level trough hanging over much of Canada's east, low pressure systems and their accompanied cold fronts will pinwheel through bringing on and off again periods of rain showers across the region. Snow flurries to northern parts of Ontario, Quebec and into Labrador aren't out of the question either.
MUST SEE: 75 per cent of Canada's provinces will see snow in the next week
"Most snow will remain light, however across the Laurentians leading towards Labrador and higher elevations, greater snowfall totals will likely lead to some accumulations," says Kelly Sonnenburg, a meteorologist at The Weather Network.
The chilly northwest winds will likely produce periods of on-and-off lake-effect rain showers in southern Ontario Saturday through Monday as well.
WESTERN CANADA: Shed the layers for Summer 2.0
In a stark contrast to the east, western Canada will continue to bask in summer 2.0 weather, with a ridge of high pressure continuing to deliver temperatures in the low 20s for many in southern B.C., and the southwestern Prairies. Manitoba will be temporarily sideswiped by the trough over eastern Canada, which means temperatures will be slightly cooler than the rest of the west with more seasonal-like temperatures expected.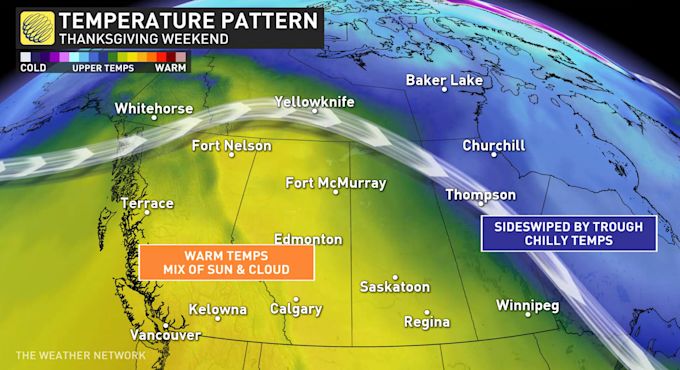 "The ridge will deliver not only warm temperatures, but fair skies with minimal precipitation expected across the region for the majority of the long weekend," Sonnenburg adds.
But beware, an approaching cold front to northern B.C. and Alberta on Monday will be the start of a temporary pattern change ushering in much cooler temperatures, rain and even some snow to start off the work week Tuesday.
Watch the video above for more forecast updates on Canada's Thanksgiving long weekend forecast.