Friday, March 22nd 2019, 12:34 pm - Canada's sweetest treat is being harvested right now.
Sap water from our beautiful maple trees makes Canada the largest exporter of maple syrup.
Here's why you need to experience maple syrup this festival season.
THE HISTORY IS AMAZING
Tapping into maple trees to extract sap water is something Indigenous people taught European settlers when they first came to North America.
The First Nations people would use syrup for food and medicine. At one point maple syrup was actually cheaper than white refined sugar!
You can see and experience how they used to boil the sap in large iron or copper kettles at maple syrup festivals.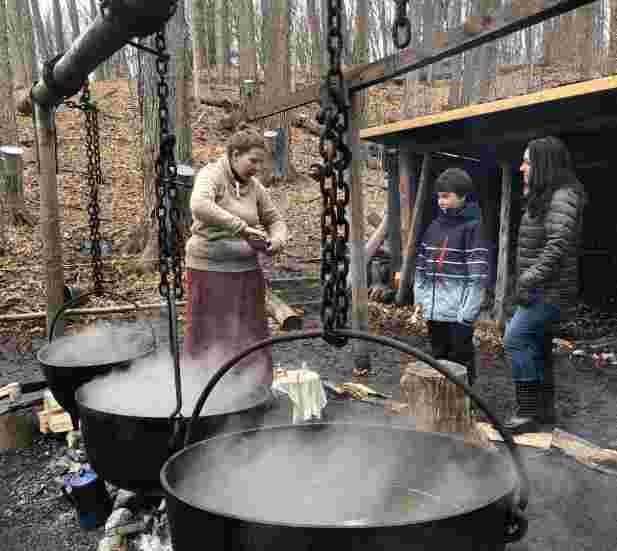 BREAK OUT OF WINTER HIBERNATION
The sap really starts flowing once temperatures are above 0°C during the daytime. It's a sure sign that winter is coming to an end. Maple syrup festivals are mainly outdoors with plenty of trails to hike.
Many conservations allow you to bring your dog, so it is something the whole family can enjoy.
It's a great experience to see the tapped trees. Make sure you peek into the buckets to see how the daily harvest is going.
Tip: wear waterproof shoes. As the days grow warmer expect some muddy conditions!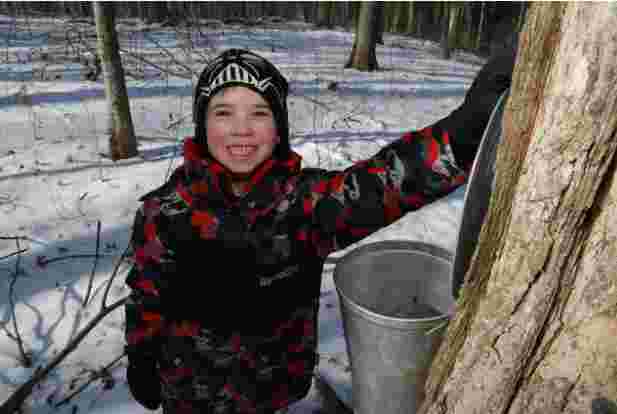 Photo courtesy: Toronto & Region Conservation Authority
GET YOUR SAMPLE ON
Sampling maple syrup is a must while at the sugarbush!
Taste the different types and learn about what the different shades and colours of syrup mean.
Here are the classifications:
Golden/delicate taste
Amber/rich taste
Dark/robust taste
Very dark/strong taste
Once you pick your favourite sample, you can pour it all over your pancakes. A maple syrup festival would not be complete without flapjacks!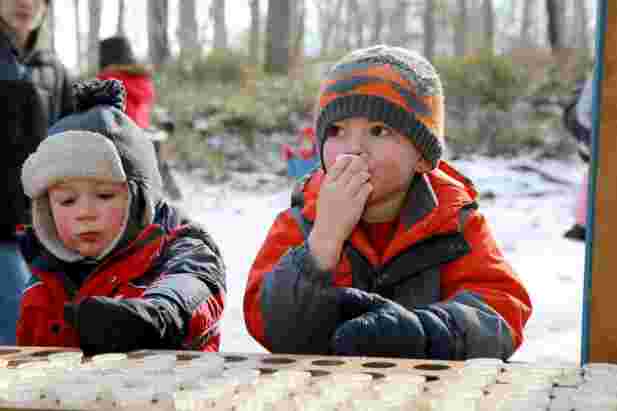 Photo courtesy: Toronto & Region Conservation Authority
WAGON RIDE, ANYONE?
As you learn about the history of harvesting sap, jump on a wagon ride to really step back in time.
These rides will take you along the trails where you can spot the forest coming to life after a long winter. Mother Nature is getting ready to do some of her best work through the spring. The wagon ride is perfect for families with younger kids who want to experience the area and minimize the walking.
And clearly this would be a great photo op! Smile!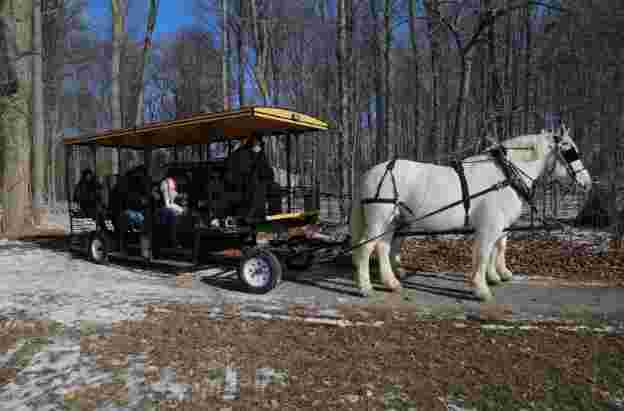 Photo courtesy: Toronto & Region Conservation Authority
If you are in Ontario you can check out the Conservation festivals running March 9 – April 7 at these four locations:
Kortright Centre for Conservation in Vaughan
Bruce's Mill Conservation Area in Stouffville
Terra Cotta Conservation Area in Halton Hills
Island Lake Conservation Area in Orangeville
Once you have been to the festival you'll be dreaming up ways to incorporate this sweet syrup into your cooking and baking. Here is a favorite from MapleSyrupFestival.com
MAPLE SYRUP CAKE
1/3 cup shortening
½ cup sugar
¾ cup maple syrup
2 ¼ cups sifted cake flour
1 tablespoon baking powder
¼ teaspoon salt
½ cup milk
3 egg whites
Maple Icing (recipe below)
¾ cup chopped walnuts
Cream the shortening and sugar. Stir in maple syrup. Add sifted dry ingredients alternately with milk. Beat egg whites until stiff, but not dry. Fold into mixture.
Turn on to greased 9-inch square pane lined with wax paper (or parchment). Bake in preheated 350F oven for 45-50 minutes. Turn out onto a cooling rack, remove the paper and cool. Spread top and sides of cake with the maple icing; sprinkle chopped nuts.
MAPLE ICING
2 cups maple syrup
Pinch of salt
2 egg whites
Boil maple syrup until it spins a thread (232F on candy thermometer). Pour slowly over the stiffly beaten salted egg whites, beating constantly with hand mixer or wire whisk. Continue beating until mixture is stiff enough to stand up in soft peaks.
WATCH BELOW: MAPLE SYRUP FESTIVAL | A BUST OR BOOM? | 2018