Thursday, August 11th 2022, 12:50 pm - Canada's largest hailstone ever recorded comes in at 292.71 grams, beating the previous record by 2.71 grams.
Canada's largest hailstone has been immortalized as a 3D print.
A Twitter thread posted by @ibhshailstudy details the process, which took more than 9 hours.
The now-infamous hailstone made headlines last week when it landed in Markerville, Alta. during a severe thunderstorm.
The heavyweight champion was collected by Western University's Northern Hail Project (NHP).
---
RELATED: Become an ultimate bug repeller this summer
---
At 292.71 grams and with a diameter of 123 millimetres, the stone beats the previous record-holder, found in Cedoux, Sask. on July 31, 1974, by 2.71 grams.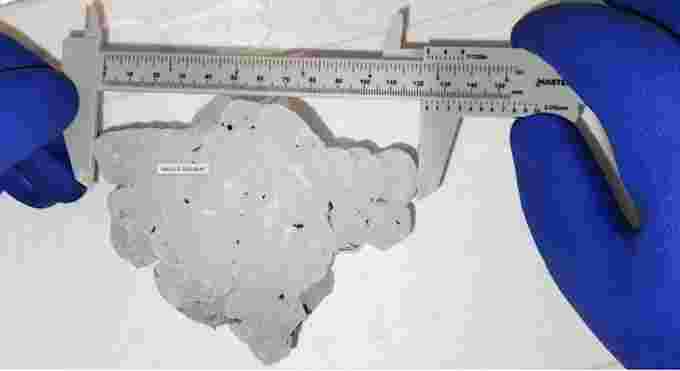 The record-breaking hailstone was recovered northwest of Markerville, Alta. on August 1, 2022. The weight is 292.71 grams and the diameter is 123mm. (Photo by Francis Lavigne-Theriault)
Only 22 hailstones collected around the world, including the one found in Markerville, have weighed more than 290 grams, NHP says.
Project team members followed the early August storm and collected seven bags of hailstones, some as large as a grapefruit, under a tree canopy about 35 km southwest of Red Deer.
Most of Alberta was under a severe thunderstorm watch when the hail touched down, and tornado warnings were issued for parts of central and southern Alberta.
RELATED VIDEO: Passengers terrified as huge hail pummel car in Alberta