Thursday, August 4th 2022, 12:00 pm - Canada's largest hailstone ever recorded comes in at 292.71 grams, beating the previous record by 2.71 grams.
---
READ MORE: How hail – of all shapes and sizes – forms, falls from sky
---
Canada has a new "heavy-weight" champion when it comes to hailstones. Coming in at 292.71 grams and measuring 123 millimetres in diameter, Western University's Northern Hail Project (NHP) field team recovered this huge hailstone after Monday's storm near Innisfail, Alta.
The hailstone breaks the Canadian record for largest hailstone beating the previous title holder by 2.71 grams. The previous record was set on July 31, 1974 in Cedoux, Sask.
According to NHP, the team followed a storm to Markerville, Alta., which is approximately 35 km southwest of Red Deer. They collected seven bags of large hailstones ranging from grapefruit to softball-size under a tree canopy.
Only 22 hailstones collected around the world, including the one found in Markerville, have weighed more than 290 grams, According to NHP.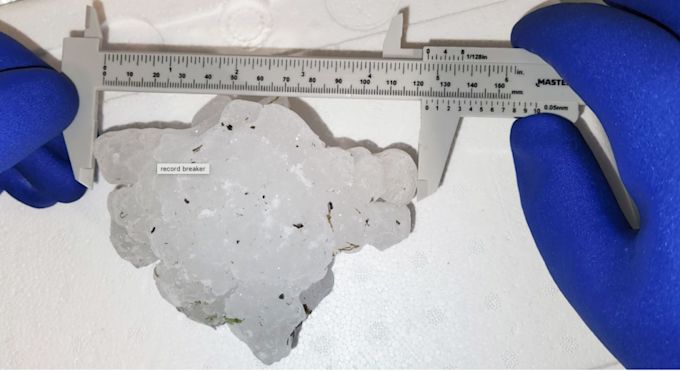 The record-breaking hailstone was recovered northwest of Markerville, Alta. on August 1, 2022. The weight is 292.71 grams and the diameter is 123mm. (Photo by Francis Lavigne-Theriault)
Supercells triggered tornado warnings for central and southern regions of Alberta Monday
The majority of Alberta was under severe thunderstorm watches Monday. Tornado-warned storms hit parts of central and southern Alberta through the afternoon and evening bringing heavy rain, strong wind gusts and large hail.
There were multiple reports of vehicles getting pelted by huge hailtsones from Albertans travelling along Queen Elizabeth 2 Highway.
---
READ MORE: Hear how this trio survived a barrage of grapefruit-size hail
---
RELATED VIDEO: Passengers terrified as huge hail pummel car in Alberta