Thursday, September 24th 2020, 6:59 am - An extended autumn is expected for most of Canada.
Autumnal weather has burst onto the scene long before most of us were ready to say goodbye to summer. We have already seen October-like weather and record cold across most of Central Canada, and many have even seen their first frost and freeze of the season. Does this mean winter is just around the corner?
While it is true that fall weather has arrived ahead of schedule (with the exception of B.C. and parts of Atlantic Canada), we are not in a free fall into winter. We expect that late September, October and November will feature extended periods of mild fall weather and a delay in the arrival of consistent winter weather across most of the country. This is in stark contrast to last fall, which included a few historic winter-like storms and extended periods of mid-winter cold.
Most Canadians can expect near or above normal temperatures during the heart of the fall season, but parts of northern B.C. and Alberta are at risk of tipping to the cold side of normal. Here is a look at our national forecast for the end of September, October and November.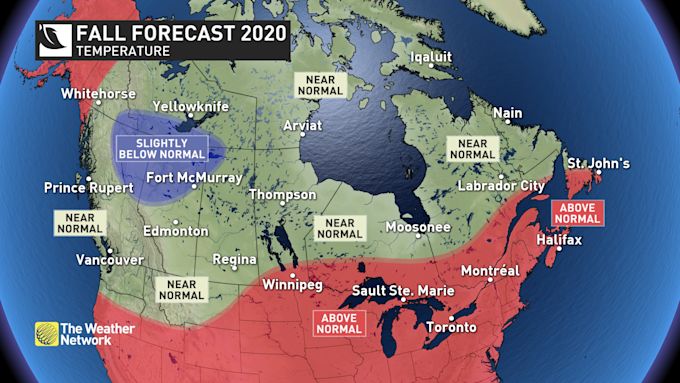 Keep in mind that during the fall season, "normal" temperatures change very quickly, especially across Central Canada where normal temperatures drop by 2°C to 3°C per week. The drop-off is not quite as dramatic closer to the Atlantic and Pacific coasts. The graphic below shows normal high temperatures for September 16th (orange bars) vs November 30th (blue bars).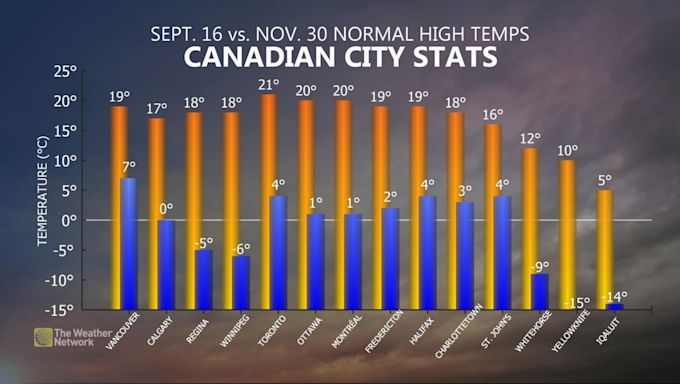 Most of Canada should see near normal precipitation totals during the fall, but we expect a wetter than normal fall across southern and central B.C., along the central and southern Rockies and across southern Alberta. Parts of Atlantic Canada could also tip to the wet side of normal due to a higher than typical risk for the remnants of tropical systems to impact the region.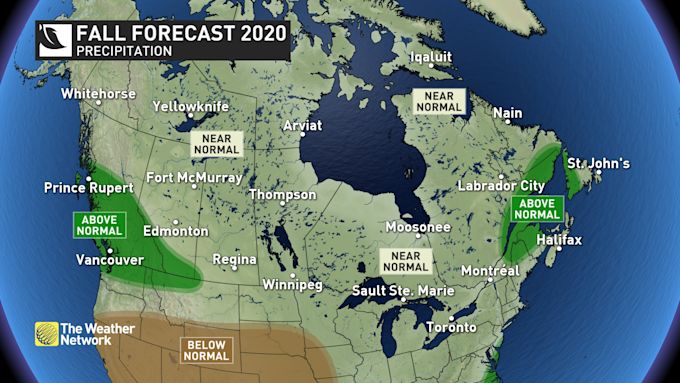 Here's a more detailed look at the conditions that we expect across each region of the country this fall:
BRITISH COLUMBIA
A very warm and dry September has given way to a more classic fall pattern this week with heavy rain and cooler temperatures. However, very warm and dry weather will return during the final days of September and continue through the first week of October.
As we get deeper into October we expect that a wet pattern will dominate for the remainder of the fall season. A typical B.C. fall turns cooler and wetter during this time of year, but it looks like central and southern B.C. will see even more rain than normal during this time period. While we don't expect more than the typical number of rainy days, the storms that track into B.C. will be more moisture-laden than normal due to the warmer than normal ocean water temperatures throughout the North Pacific.
The anticipated combination of cooler temperatures and above normal precipitation gives the potential for an early start to the ski season.
BRITISH COLUMBIA'S 2020 FALL FORECAST: LA NIÑA COULD MEAN ACTIVE STORM TRACK
ALBERTA, SASKATCHEWAN AND MANITOBA
September has delivered a few shots of October-like weather and an early end to the growing season for many. However, before we settle into winter, we expect extended periods of mild weather for October and November with near normal temperatures for the season as a whole.
However, northern Alberta is at risk to tip to the cold side of seasonal. As residents of the Prairies well know, a normal fall always includes a few tastes of early winter, but we expect a delay in the arrival of consistent winter weather.
PRAIRIES 2020 FALL FORECAST: ACTIVE JET STREAM 'LIKELY TO MISBEHAVE'
ONTARIO AND QUEBEC
After a quick transition from a hot summer to a cooler September, late summer-like weather has returned for the offical start of fall. Chilly weather will return for the first week of October but as we get deeper into October we expect periods of pleasant fall weather that will continue well into November. This should be ideal for enjoying the fall foliage and a variety of outdoor activities.
ONTARIO'S 2020 FALL FORECAST: WARM TEMPERATURES TO PREVAIL IN MONTHS AHEAD
While a couple tastes of early winter can still be expected during the season, November is expected to be much milder than last year when winter-like weather dominated the month. In fact, many residents of southern Ontario, including much of the Greater Toronto Area, actually saw their biggest snowfall of the cold weather season last year on November 11th.
QUEBEC'S 2020 FALL FORECAST: SHIFT IN PATTERN COULD MEAN MILD WEATHER
ATLANTIC CANADA
Above normal temperatures are expected to dominate the fall season. Of course, periods of colder weather will still occur, but we expect that the arrival of consistent winter weather will be delayed.
Near normal precipitation is expected for much of the region, but we continue to have a heightend risk for the remnants of tropical storms and hurricanes to impact the region, and for slow-moving fronts to tap into tropical moisture. So, while we do not expect more than the typical number of rainy days, a few moisture-laden storms could tip the final precipitation totals to the wet side of normal.
ATLANTIC'S 2020 FALL FORECAST: 'WILD CARD' BRINGS RISK FOR TROPICAL SYSTEMS
NORTHERN CANADA
A typical fall is expected across most of the region, but colder than normal temperatures are expected across southern parts of the Northwest Territories and into southeastern Yukon. Meanwhile, above normal temperatures are expected across western parts of the Yukon. Most areas will see near normal precipitation.
NORTHERN CANADA'S 2020 FALL FORECAST: COLDER WEATHER TO DOMINATE FOR SOME
A PRELIMINARY LOOK AHEAD TO WINTER
A developing La Niña will be one of the key drivers of our winter pattern. However, while La Niña winters tend to have some common characteristics, there is a lot of variability in exactly what this could mean for each part of Canada, and there are other variables that contribute to a winter pattern.
La Niña winters do tend to be colder and snowier across Western Canada, and at this point we expect that we will see that typical pattern again this winter. For B.C. and a large part of the Prairies, we expect colder than normal temperatures with an abundance of snow across the region, including the ski areas.
From the Great Lakes to Atlantic Canada, we expect that temperatures for the winter as a whole will be warmer than normal. This should mean fewer and shorter outbreaks of severe cold and below normal ice coverage on the Great Lakes.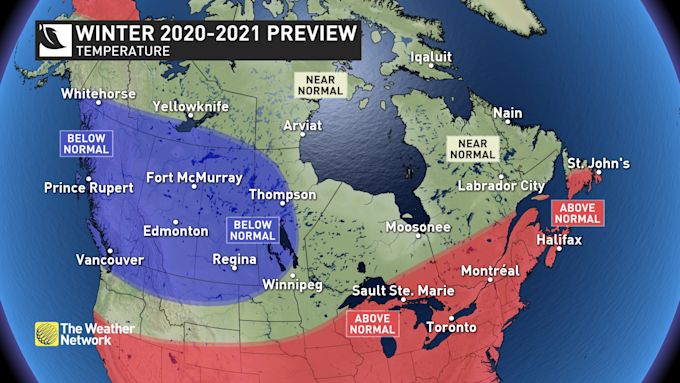 However, keep in mind that a mild pattern does not rule out high-impact snow and ice storms. During a Canadian winter, temperatures can be above seasonal and still cold enough for substantial snow and ice.
In fact, when we look back in history at previous La Niña winters across Eastern Canada, we see that they can be memorable either for their lack of winter weather or for their abundance of winter weather. Here is why.
During La Niña winters we often have a strong ridge in the jet stream over the southeastern United States, which results in warm conditions across this region. Some years that warm pattern expands north and takes over across Eastern Canada, and winter weather can be absent for weeks on end.
CANADA'S 2020 WINTER SNEAK PEEK: 'LA NIÑA KICKING INTO HIGH GEAR'
However, across the battle zone between the cold pattern across Western Canada and the warmer pattern across the southeastern U.S., we often see a very active storm track. When that storm track stays to the north, weather systems usually bring rain to the region. But at times the storm track shifts to the south, and when that happens, we can often see a parade of winter storms with an abundance of snow and ice. This can even happen in a winter that is warmer than normal.
Unfortunately, it is still too early to know exactly where that storm track will set up and it is likely that it will vary in its position through the winter. Between now and the release of our final winter forecast at the end of November, we will fine-tune the forecast and seek to get a better handle on where the dominant storm track will be. That will be the key to whether the upcoming winter is simply mild or whether it turns messy and wild.