Wednesday, July 3rd 2019, 11:45 am - Researchers say the beach was littered with dead mussels.
The shores of northern California are known for their expansive beaches and surfing opportunities, but last month's heat wave has given them a less savoury distinction -- thousands of mussels, cooked to death in their own shells.
Jackie Sones, a researcher with UC Davis Bodega Marine Reserve, made the distressing discovery while surveying Bodega Bay, which lies north of San Francisco, in mid-June in the wake of a surge of unusually warm temperatures earlier in the month.
Summer revealed! Visit our Complete Guide to Summer 2019 for an in-depth look at the Summer Forecast, tips to plan for it and much more
"It's one of the first things you see, coming down the rocks into the middle of the intertidal zone," Sones told Bay Nature magazine. "They were very visibly dead."
Temperatures soared for parts of northern California, including the Bay Area, in early June amid a record-breaking heat wave that saw San Francisco reach 100 degrees Fahrenheit (38ºC). The average high for early June is about 21ºC. Right along the coast, the high in Bodega Bay hit a high in the mid-20s -- not as dramatic as further south, but well above normal for the coast, and enough to devastate the resident mussels.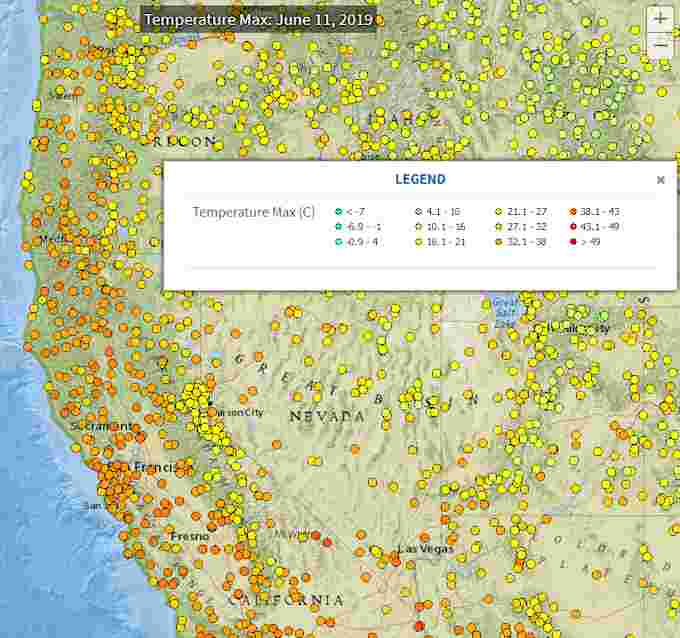 Daily maximum temperature summary for June 11, 2019. Image courtesy NOAA.
That air temperature, combined with high pressure that erased the typical afternoon sea breeze, left the mussels exposed to scorching temperatures at low tide. According to marine ecologist Brian Helmuth, in 24-degree air temperatures, the interior tissues of the mussels, which are 'glued' to the rocks they live on by super-strong silky fibres, could soar as high as 40.5ºC.
"They were just literally cooking out there," Helmuth told Bay Nature. "Unfortunately this was the worst possible time."
SEE ALSO: Ocean heat waves becoming more frequent, severe
This die-off is believed to be the worst in the past 15 years, according to Sones, who told Bay Nature "every part of the mussel bed" had dead specimens.
While northern California does see intense heat spells most years, the hottest days along the NorCal coast tend to fall later in the summer, peaking in August and September when low tide occurs early in the morning or at night. This early-season temperature surge coincided with afternoon low tides, leaving the mussels exposed in the peak heat of the day.
Sones asked for, and received, reports of other die-offs along the coast as far north as Fort Bragg, all of which are believed to be associated with the same heat wave.
Sources: The Natural History of Bodega Head | Bay Nature | Guardian | Live Science |
WATCH BELOW: LITTLE FOX, BIG JOURNEY