Wednesday, August 26th 2020, 6:28 am - Throughout this week, smoke will filter into southern Ontario, hitting its peak on Wednesday.
Smoke from California's deadly wildfires, which have now consumed more than 1 million acres (404,685 hectares), two of which are among the state's largest in recorded history, is blowing into southern Ontario this week.
It started on Monday morning in Western Canada, with the smoke impacting southern Alberta and southern Saskatchewan skies. The main risk is poor air quality.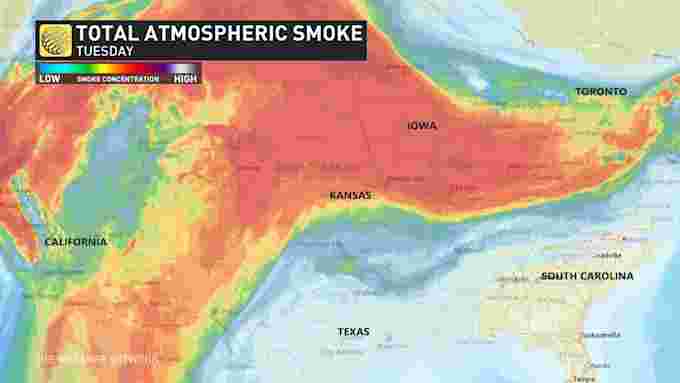 The smoke started to filter into southern Ontario Monday night and is expected to remain hovered over some areas through mid-week. On Tuesday afternoon, the smoke became anchored over a ridge of high pressure situated in the central United States. This will force it to linger in parts of southern Ontario through Wednesday, possibly lasting into Thursday.
This will help create a haze in the skies, perhaps making for "spectacular sunsets," says Weather Network meteorologist Tyler Hamilton.
"It is spreading all across the continent of North America," said Hamilton. "We, in Canada, are at risk for a significant haze."