Friday, June 24th 2022, 9:40 am - Three Canadian cities made top 10, but Calgary ranked highest
Calgary has tied with Zurich, Switzerland for third place in the Economist Intelligence Unit's (EIU) annual ranking of the world's most liveable cities.
Calgary has been in the top 10 before, but third spot is the highest ranking the city has reached, beating out Vancouver in fifth place and Toronto in eighth place.
"More Calgarians are telling the story of their city, and people are taking notice," said Mayor Jyoti Gondek in a statement on Thursday.
"Our climb in the rankings for Most Liveable City reflects the welcoming nature of our city, its affordability and the opportunity offered to entrepreneurs.
"We are exuding optimism and inviting people to join us in shaping our future."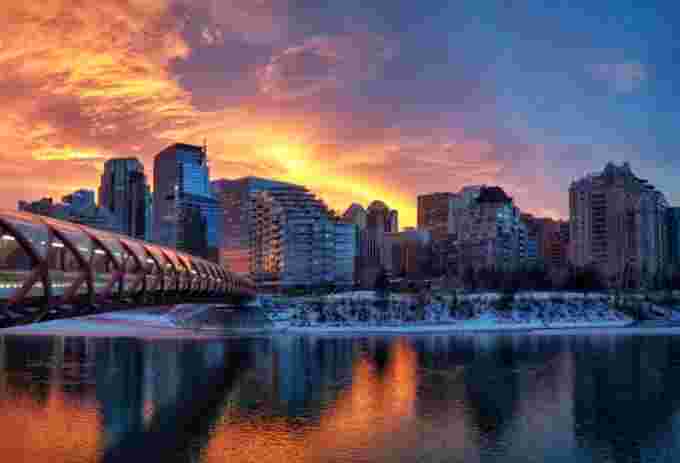 Beautiful sunset shines over Calgary skyline (Credit: Kyle Brittain/ The Weather Network)
---
SEE ALSO: These Alberta residents have accomplished a feat few birders or photographers have done
---
Vienna, Austria scored the top spot, with Copenhagen, Denmark coming in second.
The EIU, a research and analysis division of The Economist Group, the sister company to The Economist newspaper, ranked 172 cities this year.
It said each city was given a rating out of 100 for over 30 qualitative and quantitative factors across five categories: stability, healthcare, culture and environment, education and infrastructure.
With an overall score of 96.3, here is how the city fared in each category:
Stability: 95
Healthcare: 100
Culture and Environment: 90
Education: 100
Infrastructure: 100
WATCH BELOW: THE PINK HUES OF SUNRISE SILHOUETTES THE CALGARY SKYLINE
---
DON'T MISS: Get to know the weather terms you'll be hearing about this summer
---
SURVEY FINDINGS
The survey said overall, scores have gone up since last year due to the easing of COVID-19 restrictions in many places, but the global average score is still below pre-pandemic levels.
Notably, this year, the EIU wrote in its findings that Kyiv, Ukraine was forced to be removed from the list due to Russia's invasion of Ukraine.
The war also influenced the lower rankings of Moscow and St. Petersburg in Russia because of "increased instability, censorship, imposition of Western sanctions and corporates withdrawing their operation from the country."
Damascus, Syria, as well as Tripoli, Libya and Lagos, Nigeria are at the bottom "as they face social unrest, terrorism and conflict."
Western European and Canadian cities filled up most of the top 10 spots, with the exception of Osaka, Japan tying with Melbourne, Australia for 10th place.
This article, written by Dominika Lirette, was originally published for CBC News.