Thursday, July 9th 2020, 8:48 am - Storm shredded siding on homes, smashed windows and destroyed farmers' crops.
The hailstorm that hit Calgary on June 13 cost at least $1.2 billion in insured damages, making it the fourth costliest natural disaster in Canada's history, according to the Insurance Bureau of Canada.
"We're looking at the most expensive hailstorm, and I think the residents on the ground are probably not surprised as they're going through the rebuild on this," Celyeste Power, western vice-president of the bureau, told CBC News Wednesday.
The storm hit northeast Calgary, Airdrie and Rocky View County hardest.
SEE ALSO: PHOTOS: Southern Alberta slammed by damaging storms, tornado sightings
It damaged at least 70,000 homes and vehicles, and destroyed entire crops, as hailstones the size of tennis balls fell at 80 to 100 km/h.
The $1.2 billion is just a preliminary estimate and could rise, Power said, as total costs are finalized in the coming months.
"It is clear this is a devastating thing for many people," Mayor Naheed Nenshi said Wednesday.
"Many people in Calgary have had their homes completely wrecked … a lot of people have had their livelihood taken away, and even those who were fully insured are still looking at huge deductibles, having to come up with thousands of dollars today for an expense that can't be delayed."
The provincial government announced financial support for residents who experienced overland flooding, as overland flooding insurance is often not available in flood-prone areas.
But some residents in northeast Calgary have said that's not enough. Nenshi, who also lives in the area, said it's important for the province to understand the impact to residents and said much of that money isn't flowing to homeowners.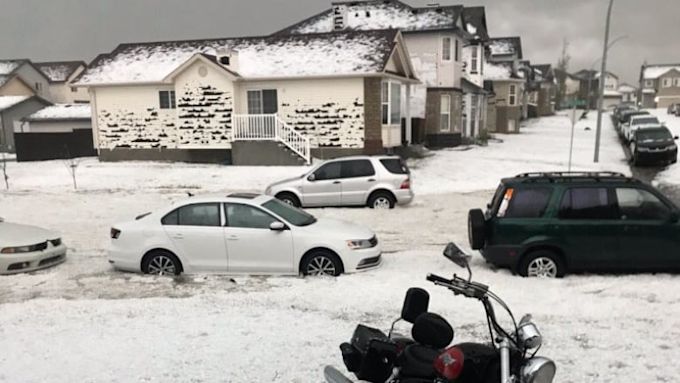 Candeena Langan shared this photo of her street in Saddle Ridge after the June 13 hailstorm, which shredded her home's siding and broke one of her windows. The hailstorm cost $1.2 billion in damage in total. (Submitted by Candeena Langan)
Many residents in that quadrant of the city are immigrants to Canada, and many were already facing financial hardships tied to the pandemic and oil price crash.
Nenshi said he spoke to one couple who are fully insured but out of work. He said their house was hit with $16,000 in damage and insurance will cover only $6,000, leaving them to come up with the remaining $10,000.
"We've got to come up with a better solution," he said.
6 OF CANADA'S 10 COSTLIEST DISASTERS HAVE HIT ALBERTA
Six of the 10 costliest natural disasters in Canada's history have hit Alberta, Power said.
The most expensive on record was the 2016 Fort McMurray wildfire, which cost nearly $4 billion. The next highest was the 2013 flooding that put downtown Calgary and much of southern Alberta under water, at a cost of $3.5 billion.
Power said while no single storm will cause insurance premiums to increase, June's hailstorm is part of a pattern.
"It's hard to ignore the fact Canada has been hit hard with natural disasters over the last decade, we're seeing much more frequent severe weather.… We are working with all levels of government to try and reduce risk and build as resilient of communities as possible, investing in infrastructure, getting people out of floodplains," she said.
The Insurance Bureau of Canada said it has deployed its mobile assistance unit to help people in the region access insurance information.
Thumbnail courtesy of Candeena Langan.
The story was written by Sarah Rieger, originally published for CBC.ca.