Friday, September 30th 2022, 12:00 pm - Nice weather doesn't break many records, but this weekend's forecast for parts of southern British Columbia could work its way into local weather history.
The beginning of October is going to feel more like the beginning of September across southern British Columbia. This bonus streak of pleasant weather could wind up breaking warmth records for this late in the year.
DON'T MISS: PHOTOS: Towns devastated as destructive Hurricane Ian hits Florida
A ridge of high pressure will build in the upper levels of the atmosphere over western North America heading into the first weekend of October.
This ridge will stubbornly stay put heading into next week, allowing above-seasonal temperatures to bathe much of B.C. through the first one-third of October.
Downtown Vancouver could register a 20-degree this weekend, which would make it the warmest October day ever recorded in the city. Farther east, this upcoming stretch of warmer-than-normal temperatures could land second in Abbotsford's record books.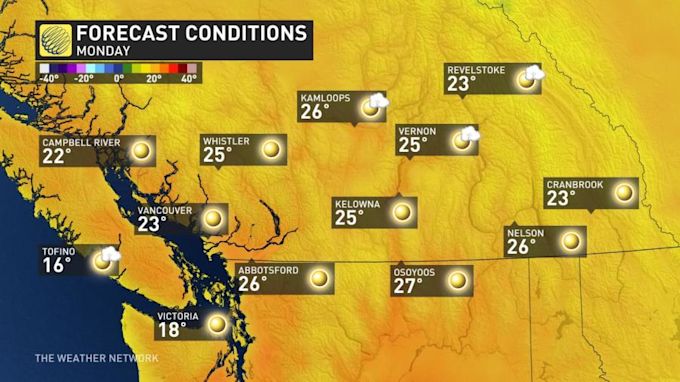 The individual high temperatures aren't the only noteworthy thing about this "heat" wave—it's the extended duration of the unusual October warmth. Temperatures will remain above-seasonal well into next week as the ridge lingers over Western Canada.
Watch the video above for more details on these potential records and B.C.'s forecast through next week.