Wednesday, April 8th 2020, 9:09 am - British Columbia's fishing industry takes a big hit amid global pandemic
Joel Collier is a fourth generation fisherman. He would spend his summers with his siblings and parents out on the boat, and now he and his wife Melissa own West Coast Wild Scallops on Vancouver Island. They consider themselves lucky to live in a place that has some of the best seafood in the world, but right now the family is unsure how they are going to survive this season with restaurants and markets closed because of COVID-19.
Melissa Collier tells us that summer is usually their busiest season, but right now everything is grinded to a halt.
"We fished already, our scallop season is our winter and we fish for a couple months and then we put everything in a cold storage and that allows us to supply a steady amount of product all summer long," she says. "That is what restaurants want when you put it on a menu, they want a steady supply. But right now we stocked up on what we thought we would sell in a normal year and we payed deckhand wages, we have done all of our boat and fuel expenses, and now we have a bunch of product sitting in cold storage that we are paying monthly fees on that we may never be able to sell."
---
Go here for our complete coverage of the COVID-19 pandemic
---
And the Collier's are not the only ones that are feeling the impacts of COVID-19.
Sonia Strobel is the co-founder of Skipper Otto, a company that allows consumers to buy products from local fishing families, and says many of her partners have voiced their concerns.
"A lot of fishing families were fishing for local restaurants, and those have been shut down, and so they have lost upwards of 75%, 95%, 100% of the market for their catch," explains Strobel. "So while fishing might open, their markets have completely disappeared."
The fishing industry has had a tough few years to say the least. In 2019, they suffered a massive hit because of the salmon run collapse. Many fishing families called the season a disaster and even reached out to the federal government for aid. Now as they start 2020, many of them have already paid upfront costs for equipment and licenses and face yet another uncertain season according to Strobel.
"The fishing industry is an industry with enormous upfront costs," explains Collier. "The risks are placed solely on the shoulders of the people that are out harvesting seafood. The cost of owning a license can be in the millions of dollars. They are forced to pay all this money upfront, to lease the license, to fuel the boat, to maintain their gear, and the incredible costs of operating a vessel. All of these costs fall on them whether or not they even get the opportunity to fish, whether or not they have fair markets for that fish. The fishing industry is uncertain."
Collier adds that after a tough 2019, many of the families already started this season off in a hole and are afraid what 2020 might mean for many.
"You have a lot of money invested just to be able to get on the water, and then you go out and you fish and you hope you can catch something," she says. "You are at the mercy of the government and regulations, at openings, and closures, and then if you do by chance get fish, you have to hope you can sell them at a fair price that covers all your costs and makes it worth your while. Most fisherman are running on fumes before the season even starts because they haven't been paid since last year. It is a really uncertain and risky industry to be in and I think this year in particular with the coronavirus I think a lot of fishermen and a lot of families are going to be struggling financially."
Fortunately for the Collier's and many others in the industry, the federal government is willing to step in and offer help to the families.
In a joint statement from the Minister of Fisheries, Ocean, and the Canadian Coast Guard, Bernadette Jordan, and Minister of Agriculture for B.C., Lana Popham, they recognized the fishing industry as an essential business.
"Harvesters, seafood growers, and processors, are essential to our collective food security and to coastal communities up and down the Pacfic," they said in the statement. "We spoke about the need to maintain the supply chain while ensuring the health and safety of the essential workers who support it."
The statement also addressed concerns regarding fluctuating markets, financial losses, and the economic measures from the federal government, and so they are allowing families up to 75 per cent wage subsidy for eligible employers as well as the new Canada Emergency Response Benefit for people who can't go out and fish or who have no earnings because of COVID-19's impact on the market.
On top of that seafood growers, shellfish farmers, and processors, will have access to the new $5 billion farm credit Canada loan program.
And while families and businesses think this will be helpful, they question if these measures are enough to help the industry post the pandemic.
Joel Collier tells us people are hurting and are definitely going to need help financially but adds there are other ways the government could help out.
"They could try and help get our seafood into local markets. I would rather not be on EI, I would rather be out fishing," he says. "If that means I am making just enough to scrape by, so be it."
His wife Melissa adds that it would be great if the government would help create local infrastructure that would allow local seafood into consumers' hands.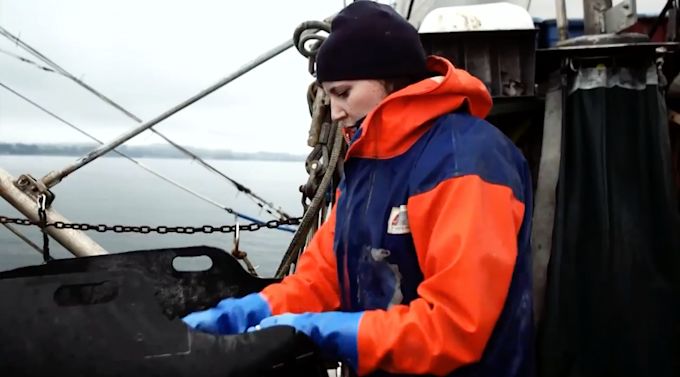 Melissa Collier (The Weather Network)
This has actually been an issue for the industry long before the virus.
Strobel says Canada's fishing markets are very global and that we export about 90 per cent of the seafood we catch locally, while about 80 per cent the seafood we buy in restaurants and retail are imported. On top of that, local fish that is sold here is usually processed overseas, and she says this needs to change.
"We have really lost most of our processing capacity in B.C. We ship fish from BC to China, only to be shipped back for sale in Canada, and this is wrong on so many levels, not the least of which is the carbon impact of shipping seafood around the world. We actually need to reinvigorate the processing industry in B.C.," says Strobel.
She adds that while COVID-19 is a global tragedy, she also hopes it will be a wake up call that we need to rely on more local agriculture to help us survive any future pandemics.
"I am an eternal optimist. I am always looking for silver linings. This crisis is terrifying and we haven't even seen the full fallout from this, but the one thing that gives me hope is that we have needed to rebuild local, robust food systems, I have been screaming that from the tops of the mountains for a decade, and this is finally bringing attention to something that has always been an issue. I am really hoping that we are going to have the motivation to make some changes to build these local, robust food systems so that the post COVID 19 will look very different. It is my hope and belief that it will be better for local food systems."
RELATED VIDEO: COULD CLIMATE CHANGE INCREASE FUTURE PANDEMICS?
--
Thumbnail image source: PEXELS/energepic.com