B.C.: Soggy pattern continues into new week
Sunday, October 20th 2019, 9:43 am - Keep the umbrella handy.
The rainy season continues to live up to its name for coastal British Columbia. Though Saturday brought a few dry hours to the coast, the next system is already on its way in for Sunday afternoon. A pulse of moisture following quickly behind will mean it's back to the umbrellas and rain boots for back to work, too. There are some drier days on the horizon, however, as a pattern shift takes us toward the end of October. We take a look at what to expect for the week ahead, below.
Visit our Complete Guide to Fall 2019 for an in-depth look at the Fall Forecast, tips to plan for it and a sneak peek at the winter ahead
---
WEATHER HIGHLIGHTS:
Rain returns for Sunday afternoon with another round expected Monday
Snow is possible for some of the highway passes as freezing levels drop through the weekend
Stay aware of weather ALERTS in your area
---
WATCH BELOW: WAVE AFTER WAVE OF MOISTURE HITS B.C.
Here's hoping you made the most the most of the few dry hours this weekend had to offer along the B.C. coast because the next round of rain is right on the doorstep for Sunday morning.
The next in a series of low pressure systems will bring rain and high elevation snow back to the region by Sunday afternoon. And while it isn't a particularly strong low, another pulse of moisture following right on its heels means some significant additional accumulations are expected by late Monday.
This parade of systems has also dragged cooler air down from the north, and which means lower freezing levels -- to about the 1100-metre level Sunday.
The mountain passes are in line for about 5 cm, with more expected at higher elevations, so travellers should be mindful of the conditions.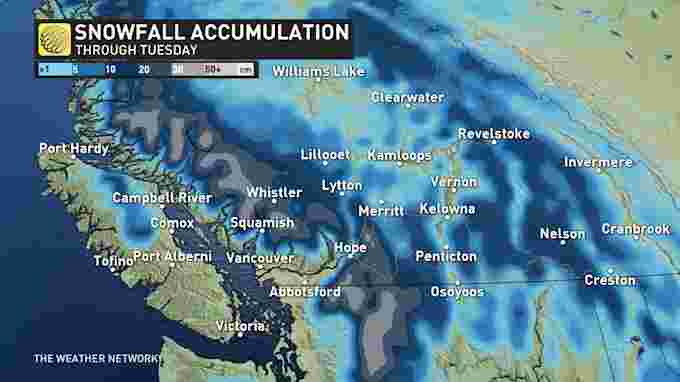 DRIER DAYS FOR MID-WEEK
A more extended break from the rain is on the way, however, as the upper-level pattern shifts and cuts off the flow of moisture -- at least for now. An area of high pressure building over the coast will turn off the firehose of systems and give the coast a few days to dry out for the latter half of the week.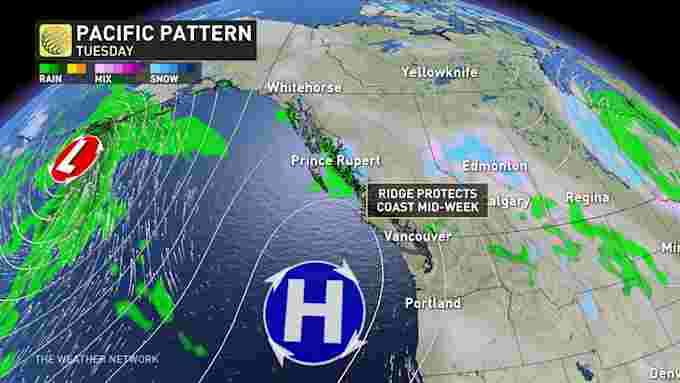 Warmer temperatures are expected with the drier weather, and though some additional rain is likely by next weekend, a generally milder, drier pattern is expected to take us through the last week of October and into November.
WATCH BELOW: SEE CANADA'S WEST COAST GRIZZLIES UP-CLOSE LIKE YOU NEVER HAVE BEFORE