Wednesday, August 17th 2022, 10:34 am - A third day of active weather could be around the corner. A similar storm set up to Wednesday will bring the risk of heavy downpours and frequent lightning to parts of southern Ontario through Thursday.
After Wednesday's thunderstorms brought heavy rain to parts of southern Ontario, the risk continues on Thursday. Storms will track slowly from north to south due to an upper level low off the Atlantic coast. Expect very localized storms, which may lead to torrential downpours in some areas, but leave other places without any significant rain at all.
---
MUST SEE: Sneaky, odd-moving and sluggish storms soak parts of Ontario
---
Scattered storms could return Thursday, before mostly sunny conditions on Friday
Isolated thunderstorms are possible once again across parts of southern Ontario and the Greater Toronto Area (GTA) as daytime heating fuels atmospheric instability.
Forecasters expect scattered storms to bubble in the afternoon across the GTA. These storms will track north to south.
An upper level low off the Atlantic coast continues to steer the atmospheric flow over much of eastern Canada. This system is the reason behind any storms that do develop, tracking south and southeast slowly through the afternoon.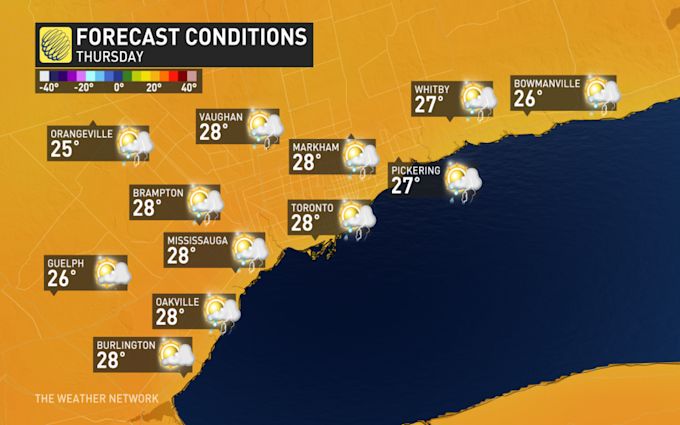 Heavy downpours, localized flooding and small hail are the main threats within the storms.
Mostly sunny and warm conditions will return to the region for Friday, turning rather hot for the start of the weekend. However, the pattern will become more favourable for a couple rounds of widespread showers and thunderstorms starting Sunday and continuing through early next week.
There is still a risk that some places will miss out, but many places in southern Ontario should finally pick up some much needed rain. Several places are currently sitting well below the normal rainfall average so far this summer. In August alone, the city of Toronto for example has seen just 18 mm of rain, accounting for just 23 percent of the normal amount for the month.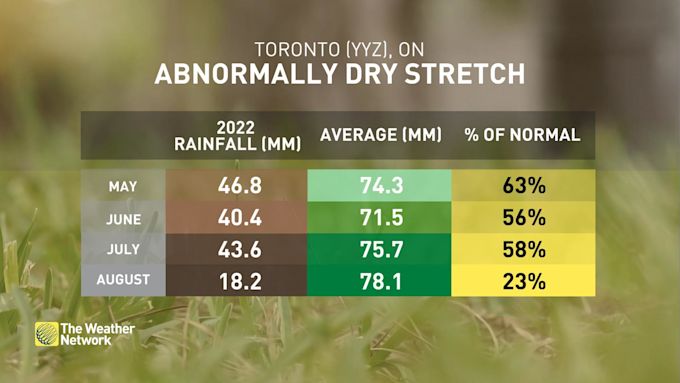 Warm, but not hot, weather should dominate during late August, but a couple days of cooler weather are expected for late next week.
Be sure to check back for the latest weather updates across Ontario as we move through August.