Thursday, April 28th 2022, 10:00 am - People in Eastern Canada can expect a "what you see is what you get" type of forecast for the next several days.
The weather over Eastern Canada is stuck in a standstill through this weekend.
A building ridge in the jet stream over the Atlantic Ocean will create an upper-level atmospheric gridlock. This will lead to a "what you see is what you get" type of forecast for folks across Eastern Canada late this week and into the weekend.
Depending on where you are, this could lead to an extended stretch of dry weather, or for the not-so-lucky, more than four days of snow, rain, or a mix of both.
---
SEE ALSO: Toronto has yet to hit 20 C this spring, here's when it could happen
---
WHAT CAN WE EXPECT FOR THE NEXT SEVERAL DAYS?
Picture an accident on Highway 401 with all lanes blocked, bringing traffic to a standstill. This gridlocked pattern is emerging overhead, along Canada's atmospheric highway. A strong ridge over Greenland is showing signs of halting Eastern Canada's weather patterns for a multitude of days, with a stretch of cooler air and unsettled weather to some.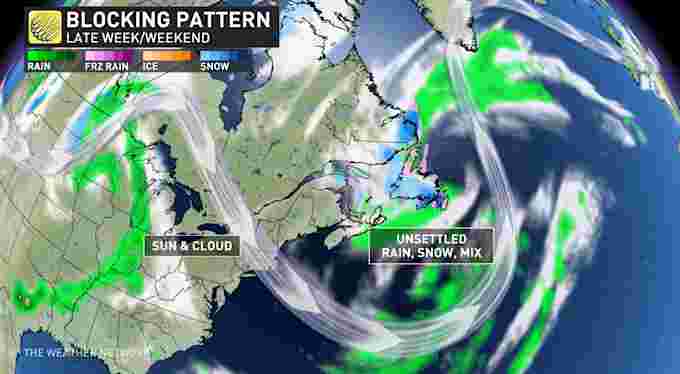 For Atlantic Canada, the Maritimes are forecast to be locked into an unstable pattern due to a cutoff low. Think of the low as an anti-clockwise vacuum of air. The air under the Maritimes is coming together and lifting, creating the precipitation that is forecast to fall as both rain and snow.
A very slow-moving system, thanks to the blocking pattern, will meander across the region late week and weekend. Rain showers will dominate across most of the region, but heavy wet snow is expected on the back side of the system across northern New Brunswick and Labrador. Chilly weather across the region, especially behind the system, is forecast through the weekend and into early next week.
On the other side, Ontario is stuck just to the low's left, leaving the province in a northerly streamline of air feeding into it. Although Ontario's weather is locked into a more pleasant ridging pattern with sunshine, it's not enough to pump temperatures into seasonal or above seasonal values. After March-like weather Wednesday, temperatures will slowly try to trend back to near seasonal for much of the region.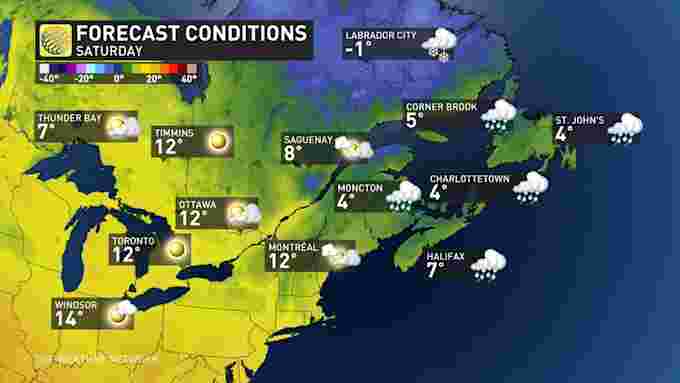 The colder northerly air moving in keeps temperatures cool and below seasonal for the days ahead. An easterly wind will develop off Lake Ontario this weekend, holding temperatures back a few degrees around the west end of Lake Ontario, including the Greater Toronto Area (GTA).
Several days of sunshine for southern Ontario and Quebec will continue through the weekend. Sunshine continues into early next week for southern Quebec. In fact, we could be in the midst of one of Montreal's longest dry streaks since late last year.
ENJOY THE SUN NOW, LOTS OF RAIN ON THE WAY TO WATER YOUR DANDELIONS
With files from Rachel Modestino and Kelly Sonnenburg, meteorologists at The Weather Network.
Stay tuned to The Weather Network for the latest forecast for Eastern Canada.