Sunday, July 14th 2019, 3:59 pm - Severe thunderstorm warnings and watches have been issued for parts of New Brunswick
As the weekend comes to an end, there will be a widespread threat for thunderstorms across the Maritimes, particularly in New Brunswick, where storms could turn severe Sunday afternoon. Severe thunderstorm watches and warnings are in effect for parts of the province. The threat for these storms include heavy rain, strong winds and small hail. Temperatures will rebound by mid-week but there could also be impacts from the remnants of Barry, too. For more on the risk for severe weather Sunday and the warming temperatures, read below.
---
WEATHER HIGHLIGHTS:
Threat for thunderstorms on Sunday, severe possible in New Brunswick; watches issued
Warm temperatures, possible Barry remnants next week
Stay up-to-date on the latest ALERTS in your area
---
WATCH BELOW: TIMING OF STORM RISK SUNDAY
A frontal system moving into the Maritimes Sunday will bring rain and the risk of thunderstorms across the provinces, with some having the potential to become severe in New Brunswick and parts of northern Nova Scotia (north of Halifax). Severe thunderstorm watches are in place for the former. The potential threats from these storms include strong or damaging wind gusts, small hail and heavy rainfall.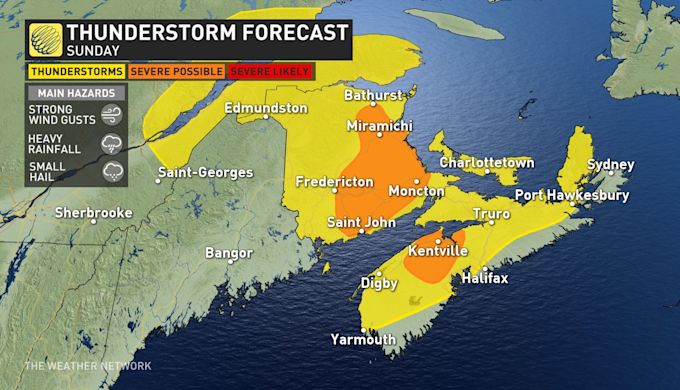 Showers from the system will reach Newfoundland overnight into early Monday morning and by the afternoon in the Avalon.
NEXT WEEK MARKED BY WARMER TEMPERATURES, POSSIBLE BARRY REMNANTS
Temperatures are forecasted to warm up across the Atlantic provinces by mid-week, with some cities hovering just shy of the 30-degree mark by Wednesday.
This is following several new record-low temperatures just set across parts of Atlantic Canada on Thursday, with some past records dating back 45 years ago.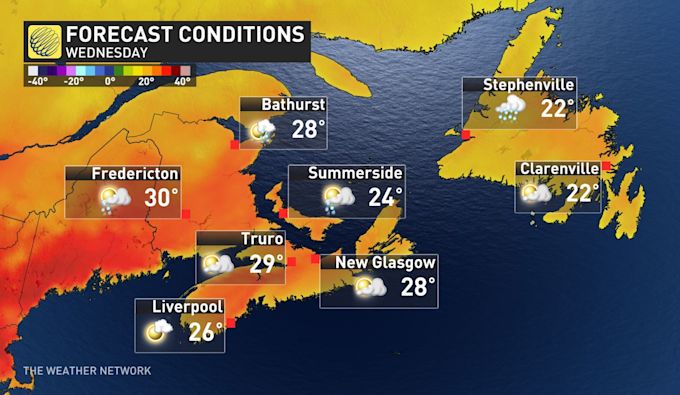 "We'll also be watching the remnants of Barry by the end of next week and whether it reorganizes into a non-tropical low in the Atlantic next weekend," says Sonnenburg.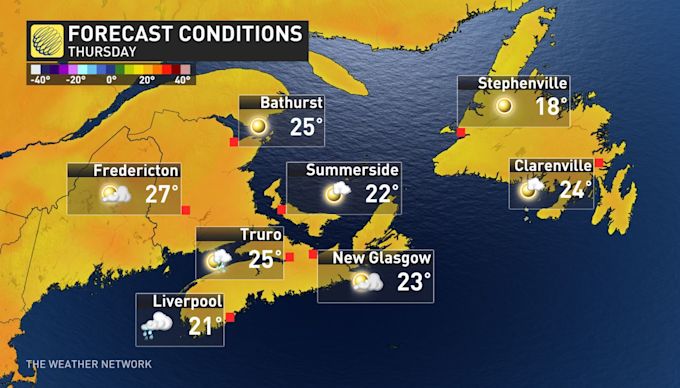 Stay tuned to The Weather Network for the latest updates.
WATCH BELOW: VICIOUS SUPERCELL THUNDERSTORM LASHES GREEK TOURIST DESTINATION