Sunday, January 23rd 2022, 12:37 pm - A clipper will arrive Monday with another round of snow, followed by more lake-effect snow squalls and a shot of frigid air by mid-week.
A fast-moving clipper will bring snow across southern Ontario on Monday and could complicate travel throughout the day, particularly during the evening commute. This comes ahead of another blast of Arctic air that will bring bitterly cold temperatures by mid-week. Details and timing, below.
---
DON'T MISS: Here's how to stock your vehicle's emergency kit, BEFORE you get stranded
---
MONDAY: CLIPPER COULD IMPACT EVENING COMMUTE
Snowfall associated with a clipper tracking through will begin along the Lake Huron shorelines and southwestern Ontario around noon on Monday. Snow will gradually move into the Greater Toronto Area (GTA) just after midday and will continue falling through the evening.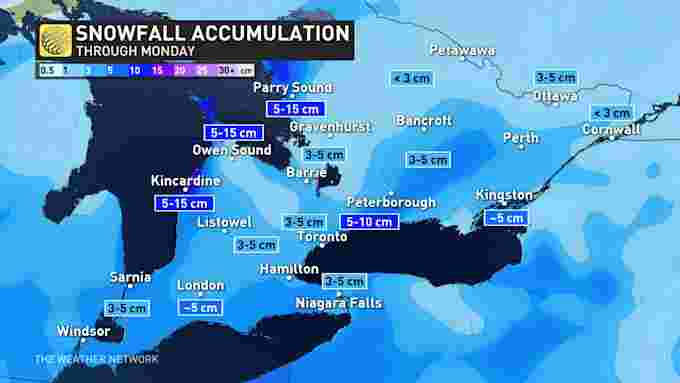 Timing is more of a concern than snowfall totals themselves, as the snowfall will likely affect travel during the afternoon and evening commute. Once the clipper passes, more snow is expected as a result of lake enhancement and squalls developing again. Snowfall eases for the GTA after midnight.
Generally, many areas will see around 5 cm of fresh snow with this clipper, however, amounts could locally approach 10 cm east of Toronto in areas that see more organized snowfall. Less than 3 cm is anticipated farther north into cottage country.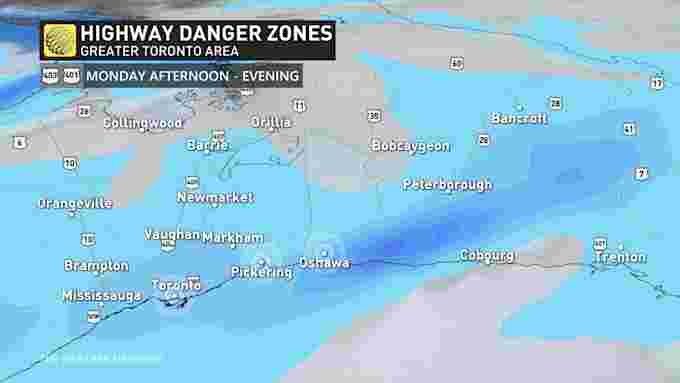 Ontario is facing a persistently cold pattern across this week. On Tuesday, conditions will be quiet with no major systems moving in until late week. However, a shot of reinforced cold air will make a return to southern Ontario Tuesday night into early Wednesday morning. Temperatures are expected to dip into the -20s, briefly.
Daytime highs will then stabilize to near or slightly below normal through the rest of the week.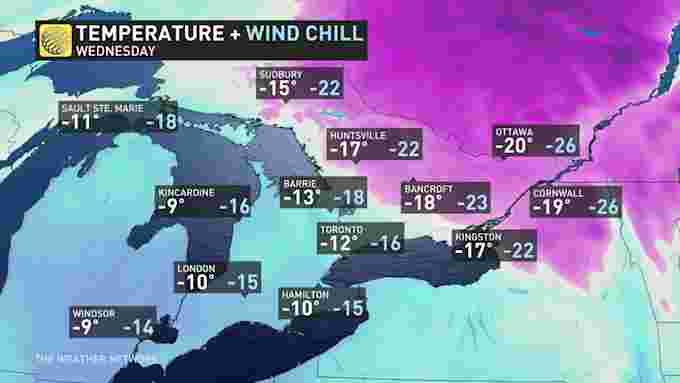 WHAT DOES NEXT MONTH HAVE IN STORE FOR ONTARIO?
A bigger pattern change is expected for the start of February, as the frigid weather will shift back to Western Canada and remain there for the month. While the pattern will definitely be milder than what we are seeing for the second half of January, it is possible that early February will also include some high-impact and messy storms.
"The question is whether the warmer weather can take over and give us an extended thaw or whether the Arctic air to the west will fight back and attempt to push back into the region at times — resulting in a changeable and stormy pattern," says Dr. Doug Gillham, a meteorologist at The Weather Network.
Subscribe to 'This Day in Weather History': Apple Podcasts | Amazon Alexa | Google Assistant | Spotify | Google Podcasts | iHeartRadio | Overcast'
Check back for the latest forecast across Ontario.