Wednesday, January 12th 2022, 3:30 pm - Experts are calling the find "exceptional."
In January 2021, a rare snowstorm hit Spain, dropping 60 cm of snow in some places, marking the worst snow event to hit the area in 50 years.
Many animals were unaccustomed to the wintry conditions and unable to find food - so they started digging.
One hungry badger focused its efforts on a cave in northwestern Spain, and unearthed a "treasure trove" of 209 Roman-era coins, dating back to between the 3rd and 5th century AD.
The coins were discovered in April 2021, and the findings have been detailed in a paper published last month by researchers at Madrid's Autonomous University.
Most of the coins originate from northern and eastern portions of the Mediterranean, although one coin is from London.
In the paper, researchers describe the find as "exceptional," due to the quantity of the coins and the moment in time they represent - marking the transition to the early medieval period.
"It's a unique moment that you dream about from a young age," Alfonso Fanjul, director of the excavation, told CNN. "It's an exceptional moment that you never think you will have as an archaeologist."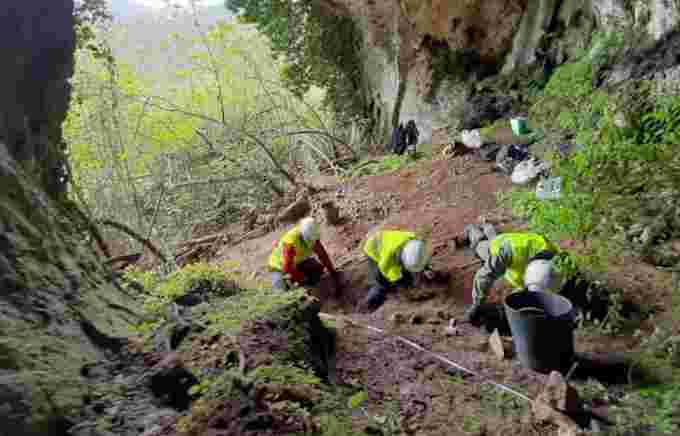 The excavation site. Credit: Alfonso Fanjul Peraza
Experts believe the coins may have been stashed in the cave by refugees during a period of political instability as the Roman empire fell and the medieval kingdoms of northern Spain gained a stronghold.
Fanjul said it is likely the badger was either digging for food or building a nest.
Once the coins are cleaned, they will be displayed at the Archaeological Museum of Asturias.
Scientists plan to return to the area to perform further excavations and to determine if the cave was a hiding place or if people once lived nearby.
"We think it's an ideal site to learn more about the people that were living through this transition," Fanjul said.
Thumbnail image by Cheryl Santa Maria. Badger: Andyballard/Pixabay Coins (file photo): Guter/Getty Images Plus.