Saturday, September 28th 2019, 9:10 pm - Even in a part of the country where September snow is not uncommon, this will be quite the storm.
Editor's note: This story is no longer being updated. Please click here for the updated forecast for your region.
Saturday meant slippery roads and snow brushes in southern Alberta as the first major snowfall event of the season got underway. 30 cm of heavy, wet snow has already fallen in parts of the southwest, and there's more to come as another system adds fuel to the fire for Sunday. This one-two punch could see snowfall records fall by the time the event tapers off on Monday. We look at who stands to see the most snow, and where blizzard-like conditions will make travel treacherous, below.
Visit our Complete Guide to Fall 2019 for an in-depth look at the Fall Forecast, tips to plan for it and a sneak peek at the winter ahead
---
WEATHER HIGHLIGHTS
Upsloping snow continues through the day Saturday evening
Snow-laden system south of the border gradually tracks north Saturday night; snowfall rate increases, spreads north overnight
Wind gusts strengthen overnight for S Alberta, strong gusts expected Sunday across S Saskatchewan
Stay up-to-date on the ALERTS in your area
---
WATCH BELOW: TRACKING THE SPREADING SNOW
SIGNIFICANT SEPTEMBER SNOW
Winter storm and snowfall warnings continued to spread across southern Alberta and southwestern Saskatchewan on Saturday as snow picked up across the region. 30 cm of snow had already fallen by Saturday morning in the Crowsnest area, and impressive snowfall rates continued through the afternoon across extreme southwestern Alberta.
Much of Saturday's snowfall was fueled by upsloping winds, sending the heaviest of the wet snow into the foothills and sites at elevation.
The second push on the way for Sunday, however, will 'share the wealth' across more of southern Alberta and into southern Saskatchewan, as a Colorado low lifts north toward the international border.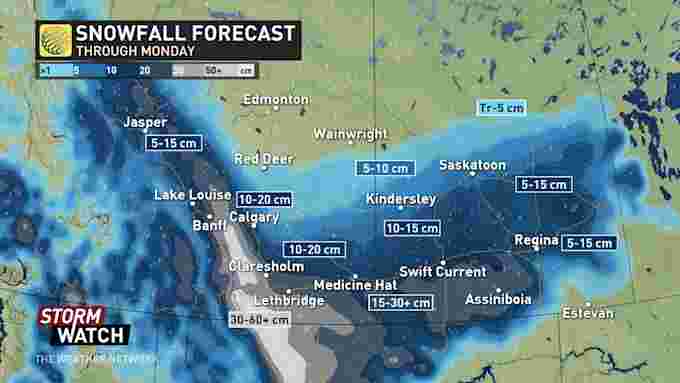 Expect conditions to deteriorate in Calgary through Sunday morning, with the heaviest snow arriving through the afternoon and evening, continuing into early Monday. A similar timing is expected around Medicine Hat, and for much of southern Saskatchewan.
More than 60 cm of snow is expected to fall over the highest elevations of southwestern Alberta by the time snow tapers off on Monday. Along the foothills, across extreme southern Alberta, and into the Cypress Hills, 15 to 30 cm is expected, with lesser -- but still significant -- accumulations on the way from Calgary to Regina.
The combination of this one-two punch could put all-time September single-day snowfall records in jeopardy.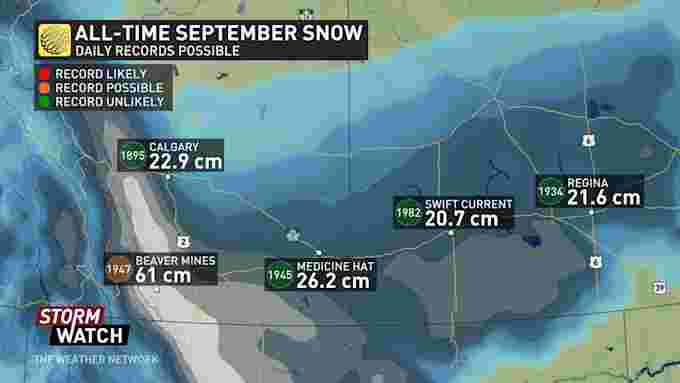 STRONG WINDS BRING BLIZZARD-LIKE CONDITIONS, RAISE DAMAGE POTENTIAL
Winds will also pick up through Saturday night across the region as the Colorado low pushes north. Wind gusts as high as 70 km/h are likely by Sunday afternoon in southeastern Alberta and across much of southern Saskatchewan.
WATCH BELOW: TRACKING BLUSTERY WINDS
While these aren't outrageously high wind gusts for the region, they'll be at their peak in areas where snow will be coming down the hardest. That sets the stage for blizzard-like conditions -- something travellers need to keep in mind.
With leaves still on the trees, branches weighed down by heavy, wet snow may also be prone to snapping under stress from the wind. Damage to property and power lines is likely in some areas, and officials have urged residents to avoid parking under trees during the event. Power outages are also expected for some.
These strong winds will also add to brisk wind chill values on Sunday, even for spots that won't see snow from this system.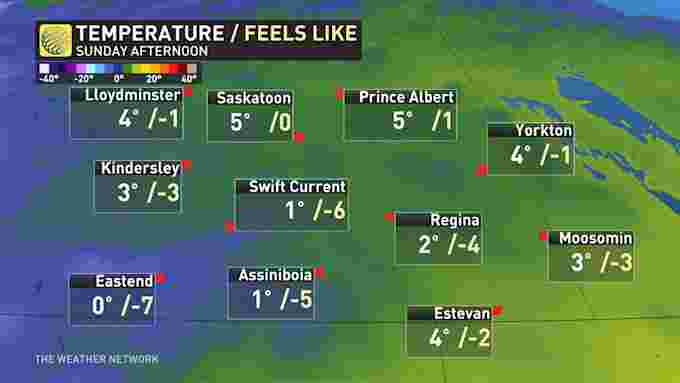 Snowfall tapers off through the day Monday, but snow on the ground may be reluctant to melt as temperatures stay well below average for early October. Afternoon highs 5 to 15ºC below average will linger into the early part of the new work-week.
WATCH BELOW: HOW THIS STORM COULD CAUSE POWER OUTAGES IN ALBERTA AND SASKATCHEWAN