Wednesday, September 9th 2020, 6:00 am - Not everyone will see a shower, however, and gloomy skies will clear out for the late week.
From Tuesday's chill, Wednesday sees a return to more seasonal temperatures for Ontario, though with some showers later in the day for parts of the south and a touch of storm risk. The rest of the week beyond looks to feature clearer skies, ahead of a mild weekend marked with some unsettled weather. A closer look, below.
---
WEATHER HIGHLIGHTS
Wednesday temperature recovery, showers for some areas
Skies clear late week, early fall-like temperatures ahead of the weekend
Periods of showers and storms on the weekend
Keep on top of severe weather ALERTS in your area
---
WEDNESDAY: WARMER, WITH LINGERING SHOWERS
Though many places across southern Ontario didn't reach 20°C Tuesday, Wednesday will be considerably closer to seasonal, with daytime highs in the low to mid-20s across the board -- more comfortable, even if not as warm as models initially seemed to suggest.
It'll still be a relatively gloomy day, though remaining dry for most of it. A few showers move in later in the day for parts of the Nickel Belt, cottage country, and south of the Bruce Peninsula, though the bulk of the rain will come through the evening and overnight.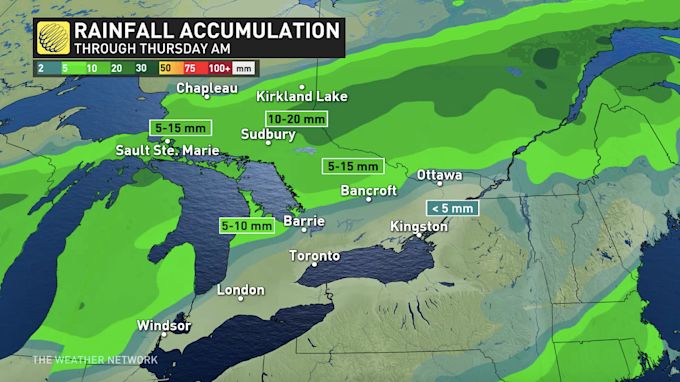 There is some slight chance for a few storms to develop around the GTA and north of Lake Ontario this afternoon, thanks to some upper-level winds, but the risk is very low.
BEYOND: CLEARING SKIES AHEAD OF AN UNSETTLED WEEKEND
That rain will end through Thursday morning across cottage country and the upper Ottawa Valley, nudged out by building high pressure that looks set to keep the skies clear for the rest of the week.
By Friday, we're looking at some pleasant early fall weather, with abundant sunshine and temperatures just a touch on the cool side of seasonal, ahead of a weekend a couple of degrees warmer, and possibly into the mid-20s by Sunday.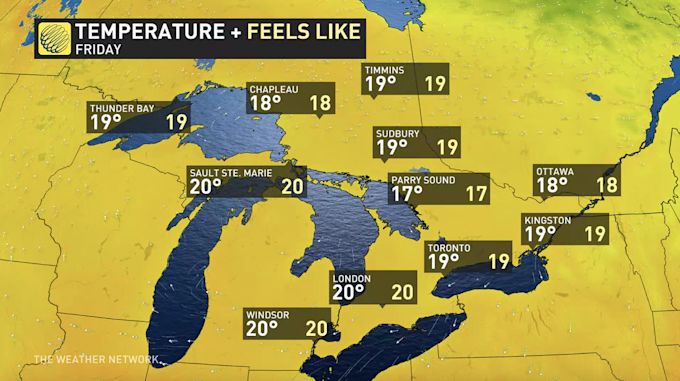 The weekend won't be completely dry, however with a period of rain and thunderstorms across southern Ontario Saturday night, and through eastern Ontario Sunday.
"Abundant sunshine and cooler early next week, then a warming trend mid and late next week," Weather Network meteorologist Dr. Doug Gillham says.
Keep an eye on the forecast as we continue to monitor Ontario's weather outlook.