Tuesday, June 30th 2020, 7:02 pm - Coronavirus news is changing quickly. Here are some of the latest developments.
COVID-19 news is changing by the hour.
Here's what happened today and some noteworthy stories from the month of June.
See May's headlines here.
For more updates and resources, click here.
JUNE 30, 2020
Toronto makes masks mandatory in all indoor public spaces
Mayor John Tory just announced that everyone in Toronto entering a public indoor space must wear a mask. The new temporary by-law goes into effect on July 7, but Tory urges residents to start wearing masks immediately.
Tory said that wearing masks "is about respecting and protecting each other," and is essential in reopening the city safely.
Though fines have yet to be set, it's estimated that they will be "in the ballpark" of $750 to $1,000.
The by-law will remain in place until another city council meeting on September 30, when the by-law will be reassessed.
Canada extends ban on most foreign travellers to July 31
On Tuesday, the CBSA announced the federal government will extend its ban on more foreign travellers until July 31.
The order had been set to expire Tuesday night.
Under the legislation, most travellers who are not Canadian citizens or permanent residents are not allowed entry into Canada if they arrive from a foreign country other than the U.S. Air crew, diplomats, immediate family members of citizens, and some seasonal workers, caregivers or international students may also be exempt.
Ontario says mandatory face masks not necessary
Ontario's health ministry said mandatory face masks isn't necessay in indoor spaces and large urban centres.
At a Monday virtual meeting, municipal leaders unanimously agreed to ask the province to adopt a mandatory mask policy as the province re-opens.
That request was turned down in a Tuesday vote.
---
National testing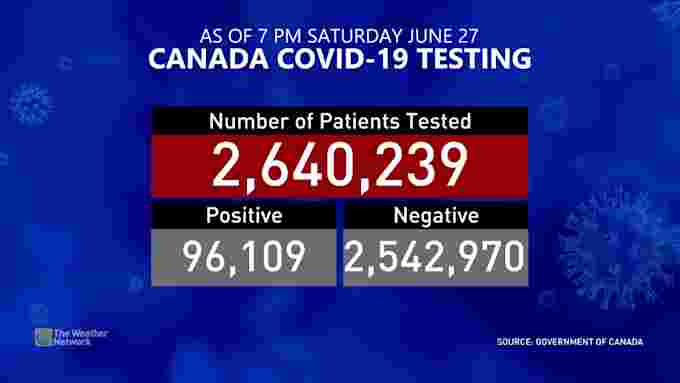 Canada's curve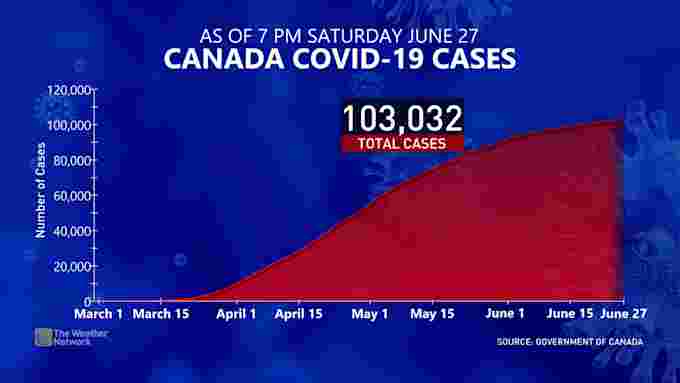 Testing by province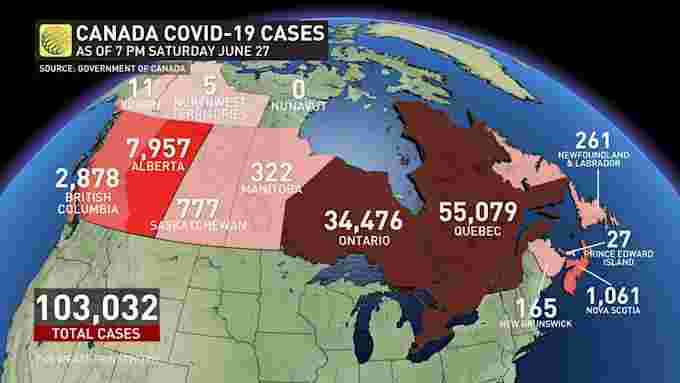 JUNE 28, 2020
Canada pledges $300 million to address humanitarian concerns of COVID-19 abroad
Canada put $300 million toward the international fight against COVID-19 Saturday, as Prime Minister Justin Trudeau joined fellow leaders, activists and philanthropists in advocating for a vaccine to be distributed to the world's neediest people.
---
JUNE 26, 2020
18 COVID-19 cases now linked to Kingston, Ont., salon
There are now 18 confirmed COVID-19 cases in people who work at or visited a Kingston, Ont., salon, nearly a quarter of the area's total known cases. Kingston, Frontenac and Lennox & Addington Public Health declared an outbreak of COVID-19 at Binh's Nails and Spa Thursday and closed it until further notice. Nearly 700 people informed they had to isolate and get tested.
U of O scientist seeking edible vaccine for COVID-19
Eating your veggies may someday protect you against COVID-19. This the goal of a plant biologist at the University of Ottawa, who's working to create an edible vaccine for the novel coronavirus. Allyson MacLean's research involves injecting tomato, potato and lettuce plants with a tiny particle of viral DNA swimming in a bacterial solution.
---
JUNE 25, 2020
_Canada launches student service grant aimed at fighting COVID-19
On Thursday, the federal government launched a program encouraging students to volunteer in efforts to fight coronavirus.
In an address, Prime Minister Justin Trudeau said Canada Student Service Grant will create 10,000 new jobs. The initiative is a way to give students aged 15 to 30 who can't find a summer job due to the pandemic an opportunity to earn money will volunteering in activities that will fight the pandemic.
---
JUNE 24, 2020
15 days of no new infections in Nova Scotia
As of Tuesday, Nova Scotia passed 15 days without any active cases of COVID-19, reads a provincial press release
With COVID-19 cases low across Atlantic Canada, interprovincial travel without the requirement to self-isolate is expected to resume July 3.
"Nova Scotians and Atlantic Canadians have worked hard to flatten the curve and we're now in a place where we can ease restrictions within our region. This will allow families to travel and vacation this summer, boosting our tourism and business sectors. We're looking forward to welcoming our neighbours back," Premier Stephen McNeil said in the press release.
"I encourage Nova Scotians, and all Atlantic Canadians, to follow public health measures in this province and in any neighbouring province they visit. COVID-19 remains a risk and we must do all we can to prevent this virus from getting a stronger foothold in our region."
Federal government considers switching to permanent remote work
The federal government is revisiting how much office space it will require post-COVID-19 and is considering allowing some of the country's civil servants to work from home permanently.
Most civil servants have been working from home since March, and Treasury Board President Jean-Yves Duclos, who oversees the bureaucracy as a workforce, said the lockdown has unveiled efficiencies and taught his team how to run secure processes remotely.
---
JUNE 23, 2020
B.C. announced 32 new cases of COVID-19 in 3 days
Provincial Health Officer Dr. Bonnie Henry announced 32 new cases of COVID-19 in B.C. and one additional death, as the province continues with its gradual process of re-opening.
Officials say there are no community outbreaks in the province.
Currently, there are 6 patients in intensive care in B.C.
Ontario beaches closed after guests disregard physical distancing rules
Southern Ontario's South Bruce Peninsula has announced the temporary closure of all its beaches after Mayor Janice Jackson received reports of "day-trippers flagrantly [defying] our restrictions."
"Council is incredibly worried at the thought of 60,000 visitors to our tiny beach over the long weekend and how that would inevitably affect our community during this global pandemic," Jackson said on Facebook.
---
JUNE 22, 2020
Two more Ontario regions allowed to begin next phase of re-opening
Ontario's Toronto and Peel Regions will enter the second phase of provincial re-opening procedures on Wednesday.
This will allow for more businesses to open, including restaurant patios, shopping centres, and hair salons.
The Windsor-Essex area remains the only provincial region that is still in the first phase.
The area is in the midst of an outbreak among migrant workers employed by the farming industry.
On Monday, Windsor's regional health unit reported 32 new cases of COVID-19 in Windsor-Essex, including 31 in agri-farm workers, CTV reports.
More here:
Five Edmonton restaurants close after staff and/or patrons test positive for COVID-19
At least five Edmonton restaurants are voluntarily closing after staff or customers tested positive for COVID-19, the CBC reports.
Those establishments include: Greta Bar, The Pint's downtown location, Earls Tin Palace on Jasper Avenue, and MKT and Round 2 on Gateway Boulevard.
On Sunday, Edmonton surpassed Calgary as having more active COVID-19 cases.
The Edmonton area has 238 of the province's 534 active cases, whereas Calgary has 235.
---
JUNE 21, 2020
Ontario reports 175 new cases of COVID-19 as number of people in hospital drops
Ontario reported 175 new cases of COVID-19 on Sunday, as the number of people in hospital with the novel coronavirus continued to decline, according to CBC News. Health Minister Christine Elliott announced 47 fewer patients are in hospital with COVID-19 on Sunday than there were on Saturday.
---
JUNE 20, 2020
Ontario sees slight increase in cases
After nearly a week of daily COVID-19 case numbers remaining below 200 in the province, Ontario is now seeing a slight climb, reported by CTV News. Health officials registered 206 new patients infected with COVID-19 on Saturday, bringing the provincial total number of cases to 33,301.
---
JUNE 19, 2020
As heat and humidity starts to build across the country, Canada's top health official is reminding residents that non-medical masks or cloth face coverings can make breathing difficult under those conditions. When outside in a heat wave, Dr. Theresa Tam recommends that physical distancing is best. She says to save the mask for indoors when you can't keep your distance.
FactFriday - Non-medical masks or cloth face coverings can make breathing difficult in high heat & humidity. When outside in a #heatwave, 2m. #PhysicalDistancing is best. Save the mask for indoors when you can't keep your distance.

Dr. Theresa Tam on Twitter: "#FactFriday - Non-medical masks or cloth face coverings can make breathing difficult in high heat & humidity. When outside in a #heatwave, 2m. #PhysicalDistancing is best. Save the mask for indoors when you can't keep your distance. / Twitter" - Non-medical masks or cloth face coverings can make breathing difficult in high heat & humidity. When outside in a Dr. Theresa Tam on Twitter: "#FactFriday - Non-medical masks or cloth face coverings can make breathing difficult in high heat & humidity. When outside in a #heatwave, 2m. #PhysicalDistancing is best. Save the mask for indoors when you can't keep your distance. / Twitter", 2m. Dr. Theresa Tam on Twitter: "#FactFriday - Non-medical masks or cloth face coverings can make breathing difficult in high heat & humidity. When outside in a #heatwave, 2m. #PhysicalDistancing is best. Save the mask for indoors when you can't keep your distance. / Twitter" is best. Save the mask for indoors when you can't keep your distance.

— Dr. Theresa Tam (@CPHO_Canada) Dr. Theresa Tam on Twitter: "#FactFriday - Non-medical masks or cloth face coverings can make breathing difficult in high heat & humidity. When outside in a #heatwave, 2m. #PhysicalDistancing is best. Save the mask for indoors when you can't keep your distance. / Twitter"
__Other noteworthy updates for Friday: __
British Columbia announced Friday it is extending a temporary financial benefit for renters and landlords until the end of August.
Alberta reported 49 new coronavirus cases on Thursday, a day when Canada's total number of confirmed and presumptive COVID-19 cases surpassed 100,000. One death was also reported in the province — a woman in her 80s from Edmonton zone who was not connected to a continuing-care facility.
The Saskatchewan government has unveiled its guidelines for schools as they prepare for students to return to in-class learning in September.
A new COVID-19 contact tracing app will be tested in Ontario starting in July.
---
JUNE 18, 2020
National testing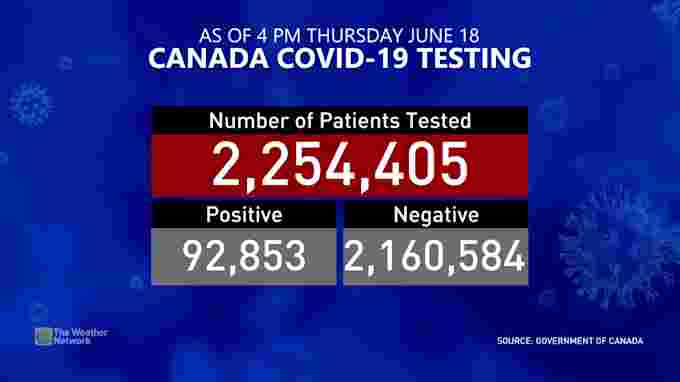 Canada's curve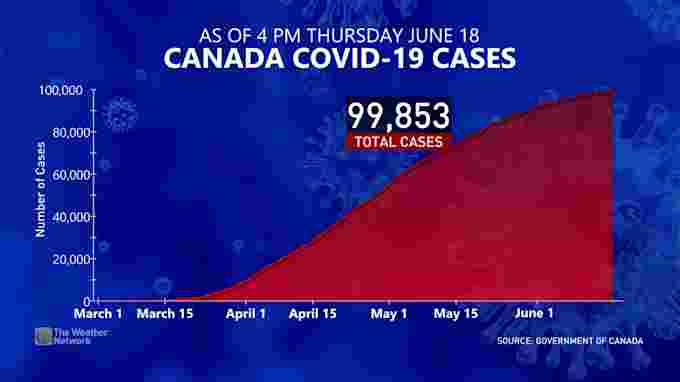 Cases by province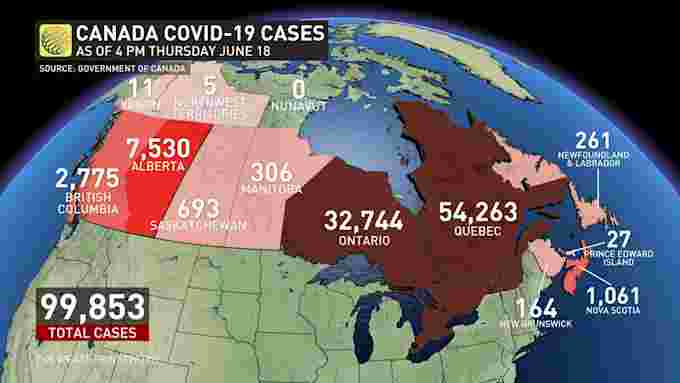 Canada surpasses 100,000 COVID-19 cases
With 173 new cases of COVID-19 reported in Ontario Thursday, Canada officially surpassed the 100,000 cases, and more than 5,300 deaths, the Toronto Star reports.
But in an interview with CTV News, Dr. Sandy Buchman, a palliative care physician in Toronto and the president of the Canadian Medical Association, says the milestone isn't "particularly meaningful."
"It may look like a milestone but I don't think that it's really an accurate number," he told the news outlet.
"Testing wasn't adequate for a long time. Hopefully we're getting there now, but compared to other countries, we're not there."
---
JUNE 17, 2020
National parks to re-open campgrounds next week
Canadians who have made campground reservations in some national parks will be allowed to visit the sites starting next week.
On Monday, campers will be able to visit 31 national parks. All national parks, historic sites, and marine conservation areas were closed in late March due to COVID-19, but some re-opened for day use in early June.
Montreal to invest $22 million into an economic recovery plan
Montreal Mayor Valérie Plante says the city will spend $22 million on infrastructure, transportation, and local businesses to help rebuild the city's economy over the next six months.
Plante says the funds will be used to help companies invest in products and materials that will promote physical distancing, like plexiglass shields.
Slow start to Alberta wildfire season linked to COVID-19 restrictions
A combination of heavy rain and reduced human activity due to COVID-19 has contributed to a slower start to the wildfire season in Alberta when compared to previous years, the CBC reports.
Provincial data suggests fewer than 500 hectares of forest have burned in the province since March -- but by this time last year, four large fires had burned through more than 350,000 ha.
---
JUNE 16, 2020
Canada extends border closure with the U.S.
The Canada-U.S. border will remain closed to non-essential travel for at least another 30 days, until July 21, to slow the spread of COVID-19 infections.
The border agreement was supposed to expire Sunday, Prime Minister Justin Trudeau said during his daily news brief to reporters.
Non-essential travel between Canada and the U.S. has been prohibited since March 21, although the border is still open to allow for the passage of trade and essential workers.
CERB program to be extended another 8 weeks
Trudeau also announced the government is extending eligibility for the CERB by another eight weeks.
The Prime Minister told reporters the government is monitoring the economy and progression of the virus to see if the program needs to be re-adjusted. CBSA Confirms Americans can travel to Alaska through Canada
The Canada Border Services Agency (CBSA) has confirmed Americans can travel through Canada by car if they're heading to Alaska, City News reports.
The report comes amid social media posts claiming Americans have been visiting Alberta tourist destinations.
According to CityNews, one Facebook post claims a server at a restaurant asked how a group of customers from Texas got through the border.
The group allegedly admitted they told the border agent they were driving to Alaska and was allowed to proceed.
---
JUNE 15, 2020
More Ontario regions to begin next phase of re-opening
Ontario Premier Doug Ford announced Monday that more areas of the province will be moving into the second stage of its reopening plan this Friday.
Those regions are:
Durham
Hamilton
York
Halton
Niagara
Haldimand-Norfolk
Sarnia-Lambton County
Regions in stage two can re-open shopping malls, barber shops, hair salons, and tattoo parlors. Swimming pools and campgrounds can also reopen, and restaurants and bars can serve customers seated outdoors.
---
JUNE 13, 2020
Ontario to allow larger groups at wedding, funeral ceremonies as province reports 266 new cases
In a news release on Saturday, the province announced that indoor wedding and funeral venues are allowed to operate at a maximum of 30 per cent capacity. Outdoor ceremonies will be limited to 50 attendees. The government understands "the importance of being with loved ones during the moments that matter most," according to a CBC News report.
Ontario records 266 new cases
Ontario reported 266 new cases of COVID-19 on Saturday, representing an increase from Friday's record low. The figure, however, marks the seventh straight day that the province has reported fewer than 300 cases, reported by CBC News.
---
JUNE 12, 2020
New daily COVID-19 cases in Ontario continue to decline amid record testing
Ontario reported 182 additional cases of COVID-19 — the lowest number of new cases on any day since March 28 — and another record number of tests, according to CBC News. The five-day rolling average of new daily cases, a measure that helps smooth peaks and valleys in data, has been in consistent decline since June 4.
Ontario allows 'social bubbles' of up to 10 people
Health officials announced Friday that 'social bubbles' of up to 10 people will now be allowed, according to CBC News. People are to be part of only one 'bubble', which can include family and friends, and social distancing measures will not be required within them.
---
JUNE 11, 2020
Ontario records lowest number of new COVID-19 cases in 11 weeks
Ontario has recorded the lowest number of new COVID-19 cases in nearly 11 weeks, CTV reports.
Health officials logged 203 new cases Thursday, rising the provincial total to 31,544.
That's the lowest number of new infections since March 28, when 151 new cases were reported. The record for the largest number of new cases was April 25, when 640 cases were recorded.
Canada Post still reporting a backlog
Canada Post continues to report a "record" volume of mail as Canadians turn to online shopping amid the coronavirus crisis.
According to Global news, the delays are expected to persist well into the future. Residents may be able to apply for a refund for an undelivered package, but only if it meets certain criteria.
---
JUNE 10, 2020
Starbucks to close up to 200 stores in Canada
Coffee chain Starbucks has announced it plans to permanently close up to 200 stores in Canada in the next two years, citing COVID-19 as one of the causes.
In a Wednesday filing to U.S. securities regulators on Wednesday, the company says it is starting to imagine what Starbucks will look like in the long-term, after COVID-19 has passed.
Cases rising among young adults in Ontario
Adults in their twenties are accelerating the spread of COVID-19 in Ontario hotspots, but public-health experts aren't sure where they are getting infected, the Globe & Mail reports.
Experts say the number of young adults testing positive for the virus has risen in Toronto and Hamilton in recent weeks when compared to people from older age groups.
On June 8, young adults accounted for 40 per cent of all new COVID-19 cases over the previous 10 days.
---
JUNE 9, 2020
National testing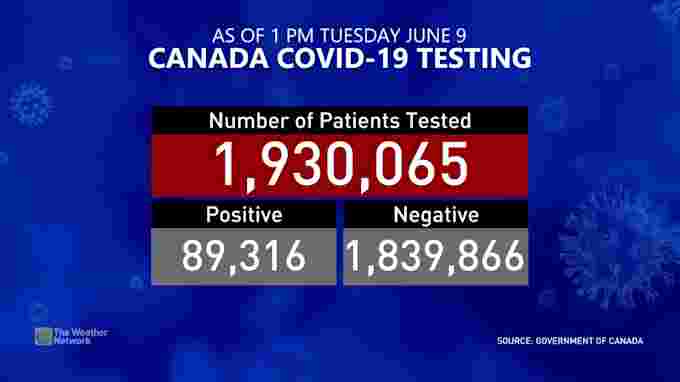 Canada's curve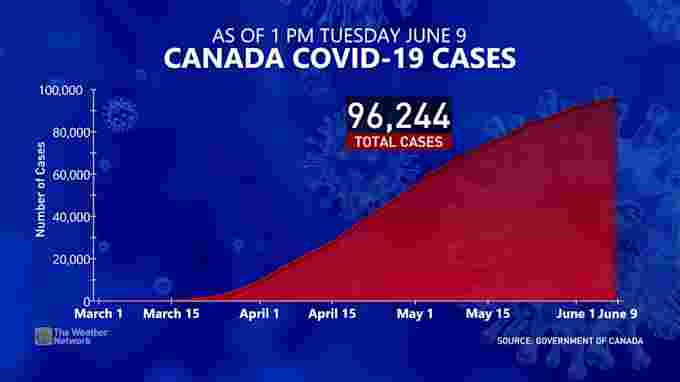 Record number of COVID-19 cases reported globally in a single day
More than 136,000 cases of COVID-19 were reported to the World Health Organization (WHO) Sunday. It's the highest number of new cases reported in a single day so far, indicating the outbreak is worsening.
According to CTV, close to 75 per cent of the cases were from 10 countries, most of which are in the Americas and South Asia, but WHO Director-General Tedros Adhanom Ghebreyesus told reporters some African countries are seeing an increase in cases.
"Almost seven million cases of COVID-19 have now been reported to WHO, and almost 400,000 deaths. Although the situation in Europe is improving, globally it is worsening," he said at the Monday press conference.
Asymptomatic spread of COVID-19 appears to be 'rare', according to WHO
The spread of COVID-19 by an asymptomatic carrier, i.e., someone who is not showing symptoms of the virus, appears to be rare, WHO technical lead for coronavirus response and head of the emerging diseases and zoonoses unit Maria Van Kerkhove, said in a Monday media brief in Geneva.
"From the data we have, it still seems to be rare that an asymptomatic person actually transmits onward to a secondary individual," she told reporters.
"We have a number of reports from countries who are doing very detailed contact tracing. They're following asymptomatic cases, they're following contacts and they're not finding secondary transmission onward. It is very rare -- and much of that is not published in the literature."
Saskatchewan beaches and playgrounds to re-open June 12
Starting Friday, beaches and playgrounds will be open again in Saskatchewan
Premier Scott Moe made the announcement Monday.
The government has imposed the following re-opening rules:
People not from the same household or extended household should - maintain two metres of physical distancing at all times.
People who are sick should stay home.
Groups must still be within gathering limits.
Parents are asked not to share toys or equipment between groups.
Visitors should wash their hands before and after visiting a playground.
Park washrooms will be open, but the fountains will be turned off.
---
JUNE 8, 2020
Ontario set to begin the second phase of re-opening
Ontarians will be able to gather in groups of 10 and more businesses and services will be allowed to begin the process of re-opening, Premier Doug Ford has announced.
In addition, some places of worship will be able to welcome people with a 30 per cent capacity limit.
Restaurants, bars, and food trucks will be able allow diners to eat on patios and in parking lots..
Newfoundland and Labrador moves to Alert Level 3
Newfoundland and Labrador is moving to Alert Level 3 of its reopening plan after no new COVID-19 cases for 11 consecutive days.
The province has reported 261 cases of COVID-19 to date, with three deaths and 256 recovered patients. There are two active cases, and one patient is in the hospital.
"This is a huge step forward and only made possible through our dedicated collaborative actions, tenacity and diligence," said Chief Medical Officer of Health Dr. Janice Fitzgerald.
"As with the previous levels of our plan, public health officials will be continuously monitoring our situation and as things evolve so will we. Our success in Alert Level 3 will depend on each of us."
---
JUNE 7, 2020
Provincial breakdown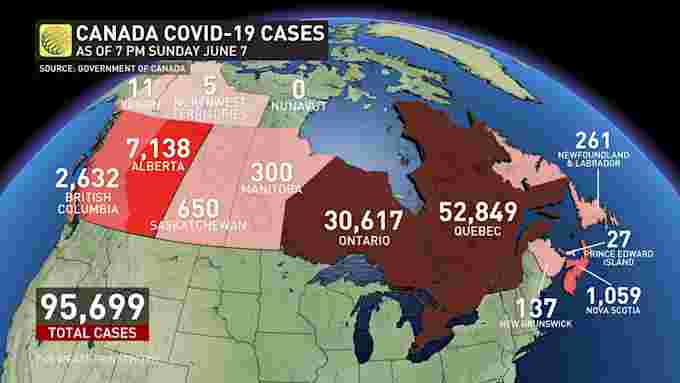 National testing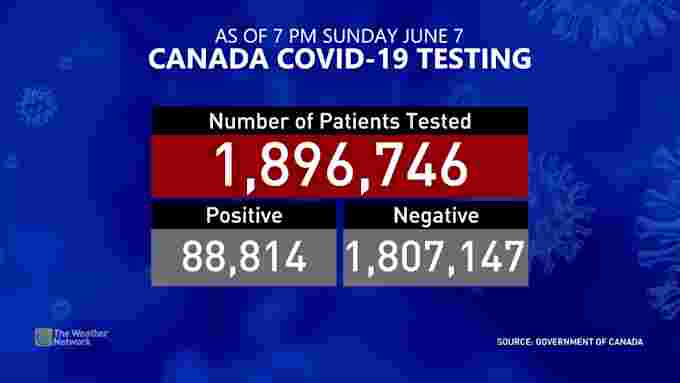 Canada's curve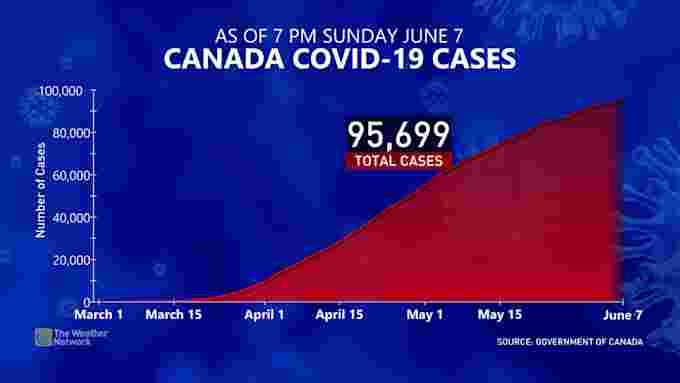 Ontario records 415 new cases of COVID-19, with more than half from reporting delay
Reported by CBC News, Ontario's health ministry announced 415 new cases of COVID-19 on Sunday. The ministry stated 192 of the cases are new, while 223 were announced because of a lag in reporting between laboratories and public health units.
Canadian Armed Forces to help Vaughan care home
As a result of the Woodbridge Vista Care Community facility struggling to contain an active COVID-19 outbreak, the Canadian Armed Forces will soon be deployed to help the long-term care home, according to CBC News. As of Saturday evening, there have been 22 COVID-19-related deaths at the home, according to York Region. The home has had 102 residents' cases in total, including deaths, and 40 cases involving health care workers.
---
JUNE 6, 2020
Ontario pushes emergency orders to June 19, 455 new COVID-19 cases reported
The Ontario government is extending its emergency orders for another 10 days, until June 19, announced on the same day the province reported an additional 455 cases, 68 of which were the result of a reporting delay, according to CBC News.
---
JUNE 5, 2020
__Ontario considering Stage 2 of reopening despite steady stream of new COVID-19 cases
According to CBC News, Premier Doug Ford has made indications that he could announce the next phase of loosening Ontario's pandemic restrictions as early as next week, even though there has been a recent uptick in new cases of COVID-19.
Kitchener, Cambridge farmers markets to return in June
Farmers markets in Ontario are gradually reopening after being shut down during the ongoing coronavirus pandemic, Global News reported. The St. Jacobs Market partially reopened Thursday, and a couple of hours later, Kitchener and Cambridge announced their main farmers markets will open later this month.
---
JUNE 4, 2020
New Brunswick reports first COVID-19 death
A resident of a long-term care home in northern New Brunswick has died of COVID-19, the CBC reports.
Daniel Ouellette, who was a resident at the Manoir de la Vallée in Atholville, died Thursday.
He was 84.
New Brunswick has currently confirmed 136 COVID-19 cases, and 120 of those are considered recovered.
Dr. Tam warns of spike in COVID-19 cases if re-openings are mishandled
Chief Public Health Officer Dr. Theresa Tam warns Canada could see "explosive growth" in COVID-19 cases if reopening efforts are mishandled.
At a Thursday press conference, Dr. Tam called on all public health offices and government officials to closely monitor COVID-19 over the coming weeks to help keep new infections down.
---
JUNE 3, 2020
Provincial breakdown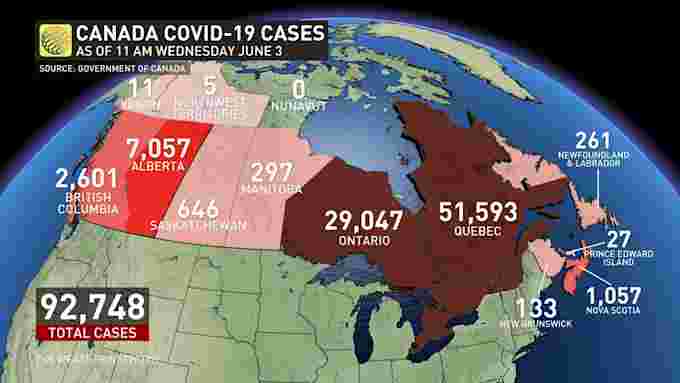 National testing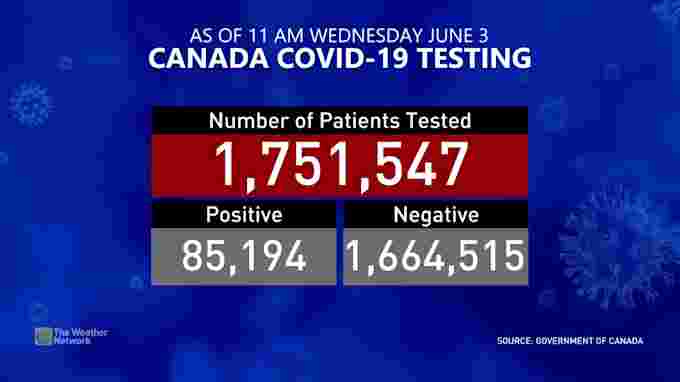 Ontario extends state of emergency until June 30
The Ontario legislature voted on Tuesday to extend the state of emergency until June 30.
The vote came after provincial health authorities reported 446 additional cases of COVID-19, a number that represents a 1.6 per cent increase in total cases.
Canada pre-ordering millions of syringes
The Canadian government has begun stocking up on millions of syringes in anticipation of "mass vaccinations" that will be used if a COVID-19 vaccination is developed.
The signing contract is for 37 million syringes, CTV reports.
---
JUNE 2, 2020
Canada's curve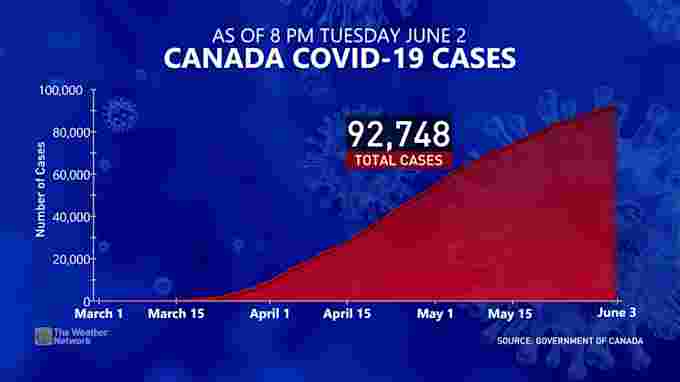 Provincial breakdown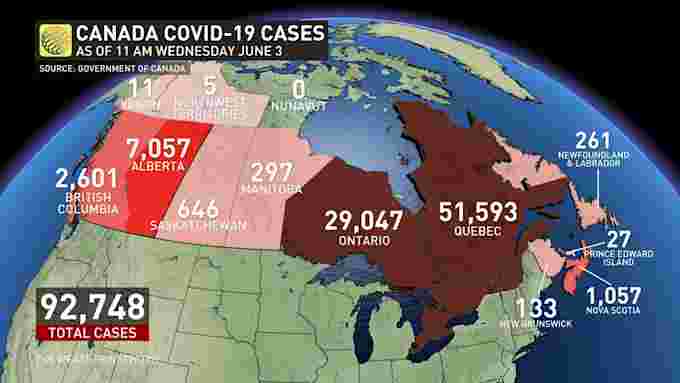 National testing
Ontario hospital failed to flag 700 confirmed COVID-19 cases
Hundreds of positive COVID-19 tests dating back to April 12 in the Toronto area were not flagged to public health officials due to a mix-up between two hospitals, the CBC reports.
The 12 public health units involved were only notified about the oversight within the past few days.
Most of the cases involve residents of Toronto, Peel Region, and York Region.
This means thousands of contacts of confirmed cases were not traced by public health, which may have contributed to a wider spread of the virus.
The tests were conducted by the William Osler Health System as well as a drive-through COVID-19 assessment centre. The samples were processed at a Mount Sinai Hospital lab in Toronto.
Ottawa pledges millions to promote tourism in Canada amid COVID-19
Ottawa will earmark millions to promote domestic travel to support the tourism industry during the pandemic.
On Sunday, Economic Development Minister Melanie Joly announced $30 million originally intended to attract foreign visitors through Destination Canada will be used to assist provinces and territories to develop their own tourism marketing plants.
Officials are also setting aside about $40 million to Ontario and western Canada tourism agencies so that they can adapt their summer operations.
VIDEO: COVID-19 AND VULNERABLE POPULATIONS
---
JUNE 1, 2020
The situation: national testing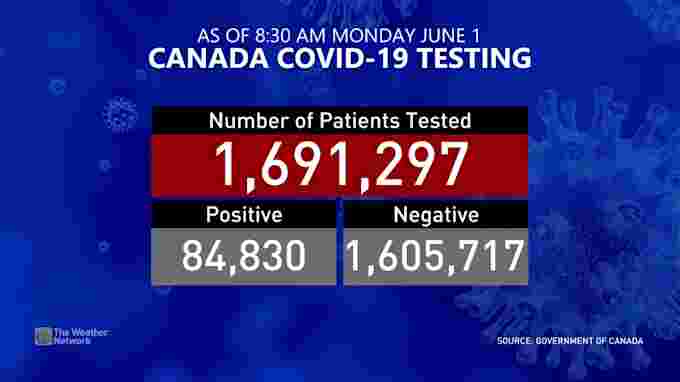 Canada's curve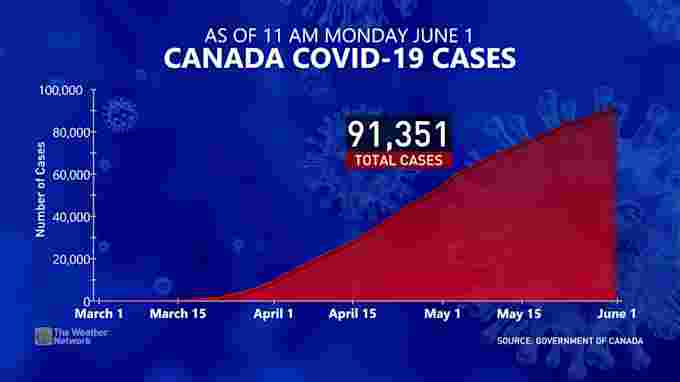 Provincial breakdown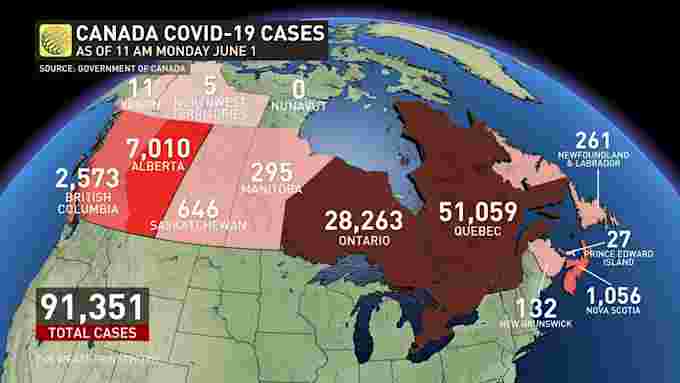 Federal government to allocate $2.2 billion to help communities hard-hit by the pandemic
Prime Minister Justin Trudeau has announced $2.2 billion in annual infrastructure funding for communities to be delivered in a one-time payment in June, giving municipalities that had been previously allocated to the funds earlier access to the money.
"This is a start," Trudeau told reporters.
Trudeau said the federal government will work with the provinces, which have jurisdiction over municipalities, to provide more emergency aid. "The fact is we need to do more, and we will do more," he said.
Canada surpasses 91,000 cases
Canada is on its way to 100,000 COVID-19 cases, with more than 91,000 patients confirmed so far. More than 48,000 people are considered recovered so far across Canada.
Quebec is the hardest-hit province, with more than 51,000 cases and 16,000 recoveries. More than 4,600 people have died in the province.