Sunday, October 2nd 2022, 11:37 am - Close to 30,000 Nova Scotia Power customers in the dark as of Sunday morning
Nearly 53,000 customers in Nova Scotia and Prince Edward Island began Sunday without power in the wake of post-tropical storm Fiona.
Canadian Armed Forces personnel arrived in Nova Scotia, Newfoundland and Labrador, and P.E.I. on Monday to help clean up debris and get trees off roads so power lines could be restored.
Cleanup efforts are continuing around the clock and power companies are regularly updating their websites.
SEE ALSO: Canada's October outlook: Slow slide or freefall into colder weather?
Nova Scotia
As of 7:25 a.m. AT on Sunday, 29,653 Nova Scotia Power customers did not have electricity, according to the Nova Scotia Power outage map. That was down from 415,000 customers at its peak after the storm.
Nova Scotia Power said 89 per cent of its customers have had electricity restored, but some would still be waiting into next week.
Lia MacDonald, an emergency operations lead with Nova Scotia Power, said in a release there were more than 1,500 people in the field across the province dealing with broken poles and downed power lines. Hundreds more were working behind the scenes, she said.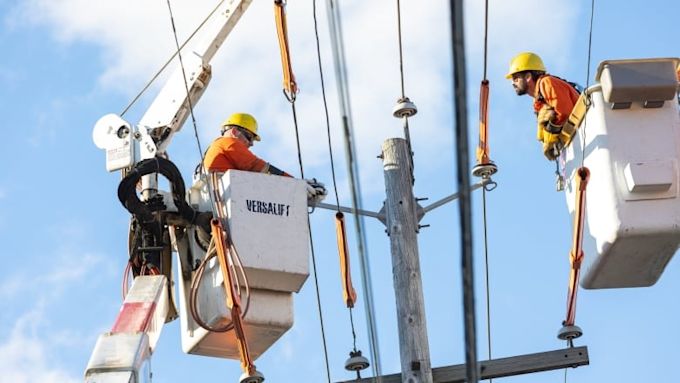 Nova Scotia Power crews making repairs and replacing equipment to restore power. (Nova Scotia Power/Twitter)
"The size of this response effort reflects the magnitude of Fiona and the extent of damage left behind," MacDonald said.
A release from the utility on Saturday said it is ramping up its restoration efforts in the eastern region. That part of the province sustained the most significant damage.
According to the release, heavy equipment and cranes are frequently needed to clear downed trees before customers can be reconnected.
As of Saturday morning, about 70 per cent of customers in the northeast of the province had their power restored, the release said.
The utility said 80 per cent of customers in the Cape Breton region had power restored as of Saturday morning.
On Friday, the utility said final restorations were being completed in western Nova Scotia.
As of Saturday morning, fewer than 1,000 customers in the Halifax area were without power, the utility said.
Prince Edward Island
As of 7:30 a.m. AT on Sunday, 23,278 Maritime Electric customers were affected by power outages across P.E.I.
Stratford and Cornwall had the highest number of outages in the province.
WATCH: Trudeau takes a firsthand look at Fiona's devastation in Port aux Basques
The story, written by Anam Khan, was originally published for CBC News.