Thursday, October 8th 2020, 4:15 pm - Check out the stacked low-pressure system spiralling over the Hudson Bay.
As meteorologists, we're continuously analyzing satellite imagery for any unique feature that might catch our eye.
On Thursday, thousands of kilometres north, a pronounced swirl danced across the waters of Hudson Bay. To an untrained eye, it's appearance suggests the presence of an arctic hurricane – but quite the contrary, this is a classic case of mistaken identity.
This vortex possesses more bark than bite, and it's a stacked upper low, a case where low-pressure uniformly aligns in the column of the atmosphere.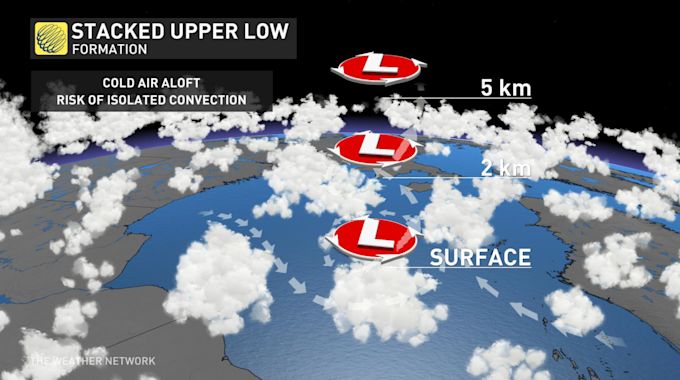 Often, this can be a tell-tale sign a low is weakening. Moreover, it can be slow to move as stacked lows are often cut-off from the main upper-level flow.
This faux-hurricane will be tugged north by a dominant upper trough to the east, slowly weakening in the process.
Don't worry, it's nothing like the Polar Vortex, but that'll come in due time.