Wednesday, May 12th 2021, 1:45 am - Warmer weather will soon make its way across Canada, and that means pets -- and their pet owners -- will be spending more time outdoors.
While there's nothing wrong with a little fresh air, here are 10 common outdoor plants you'll want to steer your furry friends away from.
If your pet has ingested a toxic plant or you suspect you pet has come into contact with a poisonous plant, take the animal to a veterinarian immediately. The sooner possible poisoning is identified and treated, the better your pet's chances for a speedy recovery.
10. AZALEA
Azaleas in New Jersey. (Famartin/Wikipedia CC BY-SA 3.0)
Ingesting an azalea can cause serious health problems in pets. Eating just a few leaves can lead to vomiting, diarrhea and drooling. If not treated by a veterinarian, an animal could fall into a coma, possibly leading to death.
9. CERTAIN TYPES OF LILIES
Daylillies in Rhode Island. (Billy Hathorn/Wikipedia CC BY-SA 3.0)
Some types of lilies -- like the peace, Peruvian and calla lily will do nothing more than irritate the mouth, tongue and esophagus if ingested.
Other types of lilies, like the day (pictured above), day, Asiatic, Easter and Japanese show varieties can result in kidney failure in cats. Between 2 and 3 petals or leaves is enough to cause serious issues.
8. DAFFODIL
Daffodils in Ottawa's Rockcliffe Park/ (Pat B./Submitted)
Daffodils aren't just toxic to animals -- they can cause upset in humans, too.
The flowers contain an alkaloid called lycorine, which is known to induce vomiting. Ingesting an entire bulb can cause stomach upset, diarrhea, as well as heart and respiratory issues.
7. TULIP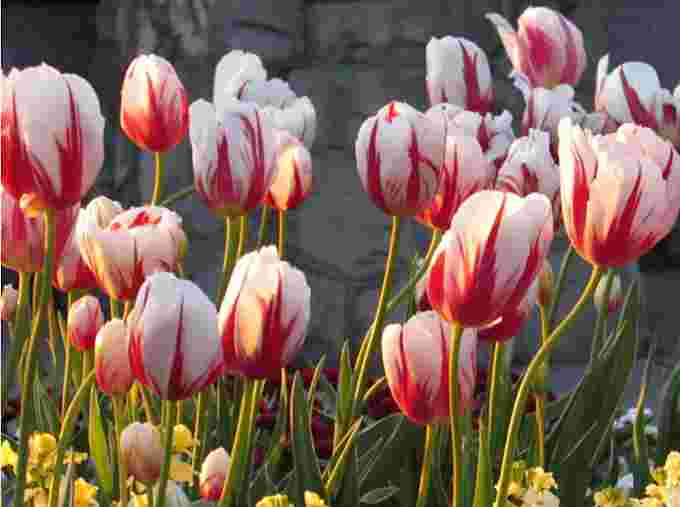 Canada Day 150 tulips. (Joan's Photos/Submitted)
Tulip bulbs are more toxic than the actual flower and its leaves.
They can cause stomach upset, with the severity depending on how much is eaten.
6. BUTTERCUP
A creeping buttercup. (Laura Brolis/Wikipedia CC BY-SA 3.0)
This tiny flower is toxic to cats, dogs, horses and cows.
While it generally doesn't cause serious issues (vomiting, drooling and stomach upset are the most common side effects) it can, it rare instances, result in paralysis.
5. GLADIOLUS
A 'sword lilly' gladilous. (William Pembroke/Wikipedia Public Domain)
While pretty to look at, keep your cats and dogs away from gladiolus. If ingested, drooling, lethargy and stomach upset are possible.
4. MORNING GLORY
Morning glories in Ajax, Ont. (Allsun/Submitted)
The effects of morning glories can be mild to moderate for cats and dogs, depending on how much they eat.
Symptoms include: Stomach upset, anemia and, in some cases, liver failure.
3. POPPY
Poppies in Zebegény, Hungary. (Zara Zobar/Submitted)
Cats and dogs can experience drooling, skin irritation, slowed heart rate and pupil dilation if they get too close to a poppy.
2. CHIVE
A chive flower with a bud. (Sporlo/Wikipedia CC0)
Chives are a staple in many herb gardens, and animals seem to flock to it, often mistaking it for grass.
This plant, along with onion, garlic and leek, is part of the allium family and it's toxic to both cats and dogs. Akita and shibu inu dogs, along with cats, seem to be most susceptible.
Abdominal pain can be an issue, along with an elevated heart rate, weakness, and an increased respiratory rate. It could take several days before symptoms are apparent.
1. HYDRANGEA
Hydrangeas come in a variety of colours. (GhePeU/Wikipedia CC BY-SA 3.0)
Dogs and cats that dine on hydrangeas can experience lethargy, vomiting and diarrhea.
VIDEO: MORE EDIBLE PLANTS TO ENJOY THIS SUMMER: