Farmers hire locals as pandemic puts pause on migrant labour
Friday, 8 May 2020 11:10 PM
At Hi-Berry Farm in Port Elgin they've looked local to help them this farming season. Normally they would have dozens of migrant workers filling the need, but COVID-19 put those plans on pause.
Hi-Berry Farm in Port Elgin sits on around 200 acres of land. The farm grows more than 40 types of fruits and vegetables. During planting and harvesting, they require all hands on deck to ensure their operation runs smoothly and that means hiring dozens of migrant workers. Their crew consists of people from Mexico, many of whom have worked on the farm for decades.
"In a normal year we would have about 36 guys from Mexico would come and work on our farm. Of course this year, as you say, it's been a little bit different," said co-owner of the farm, Luke Charbonneau. "Initially those folks weren't able to travel at all, now they are able but with some significant restrictions."
He acknowledges that the work they do on the farm is physically demanding.
"Many people who aren't in agriculture may not appreciate that it's a complicated and labour-intensive business with a lot of variables and a lot of uncertainty and we rely on as much consistency as we can get to try to make it work," he added.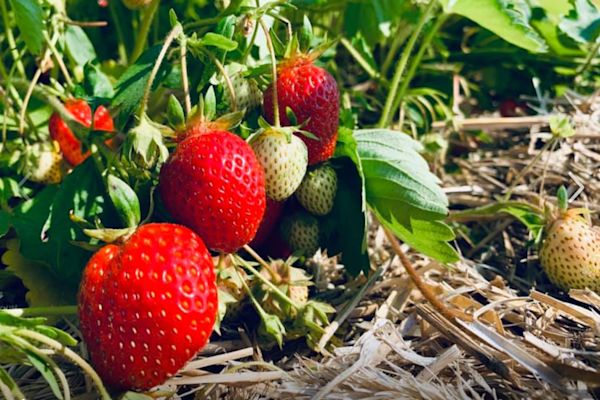 Strawberries at Hi-Berry Farm (Courtesy: Hi-Berry Farm/Facebook, 2019)
The COVID-19 pandemic has made getting the migrant workers to Canada much harder. Last month, the Canadian government announced rules and restrictions around foreign workers. This would typically have been the time that farmers prepare for their international labourers. With so much still unknown about the virus and what was to come, Charbonneau decided to delay his migrant team.
"When we were making that decision, there was a great deal of uncertainty. What would it mean? What was the trajectory of the virus going to be? How could it even be done? And even now there's a lot of rules and restrictions that we would need to work through to get those guys brought here and to be perfectly clear I don't think there's any way in 2020 at least that we will be able to bring our entire crew from Mexico here," said Charbonneau.
Among the many rules put in place by the government, their 14-day quarantine upon arrival, but also the notion of physical distancing.
"We could have only so many of them within proximity of one another in the apartments that they normally live in. There's no way we could operate and have all those people from Mexico here, so we had to do something different anyway," he said.
That's when they put out a call on Facebook looking for locals interested in making some money at a time when so many were out of jobs.
Courtesy: Hi-Berry Farm/Facebook
"Let's see how things work out. Let's try to do this with some local people in the quieter part of the season where we're planting a lot but we're not planting and harvesting at the same time so we don't need quite so many people and see where things break down," said Charbonneau.
One of the locals that responded was 19-year-old Molly Farquhar who had been studying at York University when the pandemic forced schools to shut their doors. She returned to here hometown of Southampton and was hoping to get to work, but the restaurant she worked at was closed as well. Her mother stumbled upon the facebook post and Molly decided to apply.
"I've really enjoyed it. It's been fun. We've got a really great crew of workers which is really nice to chat with people. It's kind of long days doing the same kind of movements and work and that was a bit different than serving for sure but overall I really like it," said Farquhar.
She said the team was mostly comprised of first-time farmers and that there had already been some turnaround.
"There have been people in and out already. I guess coming when they lost their job during the pandemic and then maybe another job opened up that they preferred so they went that way, but in terms for myself, I plan on sticking it out for the full summer. I hope to be able to do that until school starts again," said Farquhar.
She admits it is not easy work and can be quite repetitive.
"Looking at the field is pretty daunting. They've got a lot of land and a lot of fields of rows of the same crop and standing out there and you're like 'man, how is anything actually get done?' There's just so much to do on a farm. You see how much you really need so much help to get the stuff done," she said.
"We've been planting onions the past couple days which has been pretty fun actually. I just tasted them. They were a lot better than I thought. The biggest job we had last week, was we were planting strawberries. We did 140,000 plants which was a lot. That work got pretty tedious after a while," she laughed. "We dug carrots that have been growing all winter under the hay which was pretty cool to uncover this massive crop of carrots. There was so many I couldn't believe it."
Lots of plants ready to go in the ground. (Courtesy: Hi-Berry Farm/Facebook)
Farquhar has been learning a lot and she says she has a new appreciation for farmers and the amount of time and energy that goes into planting and harvesting.
"I feel like I can go to the grocery store and look at things and be like 'damn, that took a lot of work to get where it is right now.' I'm learning a lot and being self-sufficient in the future is something that I'd like to be able to do," she added. "This job has definitely, even in the first couple weeks, just shown me the tips and tricks that make it more valuable."
Charbonneau still plans on bringing some of his crew from Mexico as harvest season is right around the corner - their busiest time of year yet.
"I'm thinking that in June we're going to need more help than what we've got now and what we're going to be able to get from the local market," he explained. "And not to mention I have some very experienced employees who have been with me for 20 years from Mexico, some of whose expertise we're going to need if we're actually going to be able to pull this off."
He knows the situation will constantly be evolving and that times are difficult but for now, they are not impossible.
"It's more difficult. Plain and simple. It's harder to do," said Charbonneau. "We're getting it done. We're planting. Then we'll move on to harvest and hopefully we can get that labour force we need and smartly and safely get a few of our folks from Mexico here to work with some of these great Canadian folks that we've been able to hire and pull off a good season."
The 2020 Hi-Berry farming operation will be looking a bit more local.
"The thing I would ask the community and the purchasers of fruits and vegetables across Ontario, is to just like you're doing with every business, be patient and be willing to accept things maybe being a little bit different in 2020 from your agricultural community."
Be sure to watch the video that leads this article for more on this story.